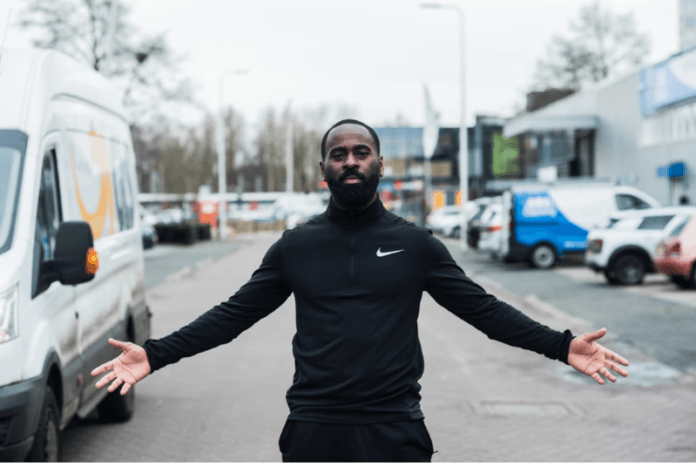 Former Black Stars winger, Quincy Owusu-Abeyie has officially retired from football to become a rapper with the name 'Blow'.
The 33-year-old was a delight during his days with the senior national teams and made a huge impression during the 2008 Africa Cup of Nations hosted here in Ghana.
And the decision has been a long time coming has been recording tracks for years now, albeit in disguise.
He has used a disguise when sharing photos and videos on social media, wearing a balaclava and big sunglasses.
But now the secret is out and he has released a solo mix tape.
On the cover of the EP titled New Chapter is Abeyie.
In an interview with Vice about his stunning switch to the music world, Owusu-Abeyie said: "I have thought about it for a long time.
READ MORE:
"Now that I am releasing my first solo mix tape, I want to show the world: this is me. This is what I am doing now."
The former footie star claims his music name comes from the fact that he used to "blow all his money" from leading a "flashy lifestyle".
In his songs, he raps about his upbringing in the tough Dutch neighbourhood of Biljmermeer, where he used to see drug-taking and crime on a daily basis as a child.
He added: "There was no Ronald de Boer type around in our neighbourhood who said 'With football, you have a future'.
"My role models were the money makers of the block. The street men driving around in horrible cars. "That was then the s*** for me, later I grew older and I made other choices.
"I hope to make the people from the neighbourhood proud. First as a footballer and now as an artist."
Video below
Owusu-Abeyie played for Arsenal before leaving for Spartak Moscow in 2006, ending his career in his homeland with NEC.
He made seven appearances for the Netherlands U21 side before switching allegiance to Ghana where his family hail from.