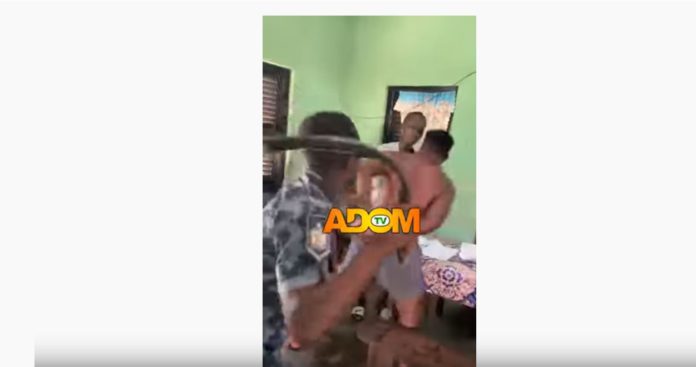 The family of Dodzie Aglebe, the man who was tortured by two police officers in a viral video, has vowed to take legal action against the officers.
Father of the victim, Torgbui Elvis Daniel Aglebe, who disclosed this, said the family has spoken to a lawyer and is considering heading to court.
ALSO: Tariff increment: Your 'voodoo' analysis won't work – Bawumia told (Listen)
The matter, he said, had disgraced the family, therefore it was prudent that they take legal action against the officers though they have been interdicted by the Acting Inspector General of Police (IGP), James Oppong-Boanuh.
ALSO: Fire razes tanker yard at Kpone, 15 fuel tankers burnt
"If someone says we are no more interested in the case, it is not true. We were notified that the IGP interdicted two police officers so if the IGP has spoken who am I to say that he should not go ahead with investigations.
"But, we also have met a lawyer and we will communicate our intention but we are considering heading to court. These police officers have disgraced our family and we can't allow that to slip our hands," he told Accra based Neat FM, monitored by Adomonline.com.
ALSO: Ghanaian fraudster with details of 35,000 bank cards jailed
The 28-year-old suspect, Aglebe was assaulted at the Railways Police Station in Koforidua by two police officers who have been interdicted by the acting IGP.
The family after a meeting to determine the next line of action dismissed claims making rounds that they are no longer interested in pursuing the case.
Source: Adomonline.com|Dorcas Abedu-Kennedy