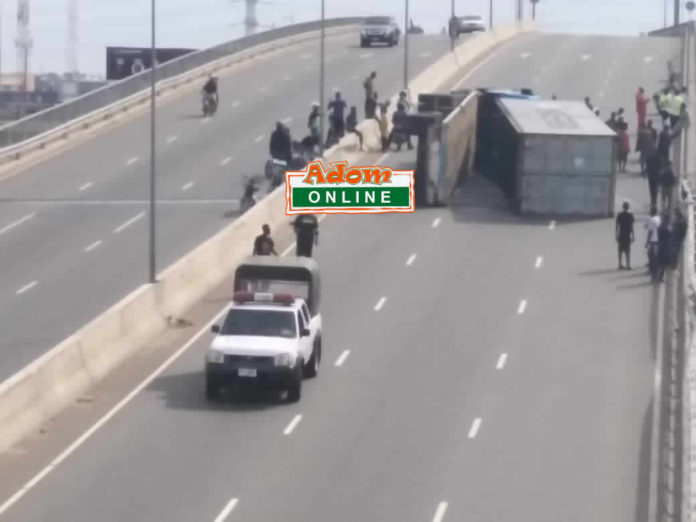 There was huge traffic at the Kwame Nkrumah Interchange on Friday afternoon (24 May 2019) as an articulated truck tumbled in an attempt to cross the overpass.
The truck, with registration number GR 4258 N, was heading towards Kaneshie from the Ring Road stretch but it failed in an attempt to ascend the overpass.
An eyewitness reported that the driver lost control of the vehicle which was loaded with raw materials for the production of baby diaper and sanitary pad.
The truck eventually fell on its side after moving several meters in reverse direction.
The driver escaped unhurt but the fallen truck blocked a section of the overpass causing huge traffic for hours.
Personnel from the Ghana Police Service and the Ghana National Fire Service (GNFS) were deployed to the scene to bring the situation under control.
This is not the first time such an accident has been recorded at the Kwame Nkrumah Interchange.
Three persons sustained severe injuries on 1 March 2017 when a container truck fell off the interchange.
They were treated at the hospital and later discharged.
Source: classfm