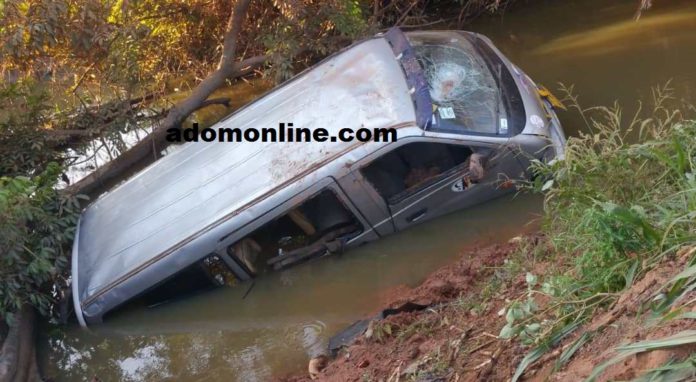 The timely intervention by residents of Esereso in Ashanti Region averted disaster, as a passenger van plunged into a stream and left about ten children trapped under a bridge on Monday evening.
The Pregio tro-tro veered off its lane on the road and landed in the narrow river at a spot called School Junction but volunteers rescued the occupants, including the children, before fire personnel from the Fire Service arrived.
ALSO: GH¢ 900 million released to pay customers of affected microfinance companies –BoG Receiver
Few minutes after residents led rescue efforts to save the victims, a tipper truck whose brakes had failed also plunged into the river. – narrowly missing a small crowd of residents who had gathered at the river to watch the children being rescued from the van.
The truck driver had, in a show of bravery, signalled many onlookers who had gathered at the river to move to safety – saving many lives could have been run over.
ALSO: How Hamile residents are reacting to Burkinabe caught in Catholic Church with loaded pistol
Though one of them sustained a minor injury, an eye-witness, Nana Adu, explains that the truck driver did well to alert the small gathering by the river.
"It was scary seeing the bus plunged into the river with children onboard. Residents rushed in to rescue the passengers, mostly children. A few minutes later, we saw a tipper truck driving towards the same direction with the driver signalling onlookers to flee from the area. It was scary," he said.
READ: Man rapes fowl; says a girlfriend is too expensive
Some residents blame the contractor undertaking rehabilitation works on the Lake Bosomtwe-Atonsu Road for the near-fatal accidents.
The residents want the government to push the contractor to speed up work to avert a recurrence.
Source: Ghana/Nhyira FM/Ofori Amanfo