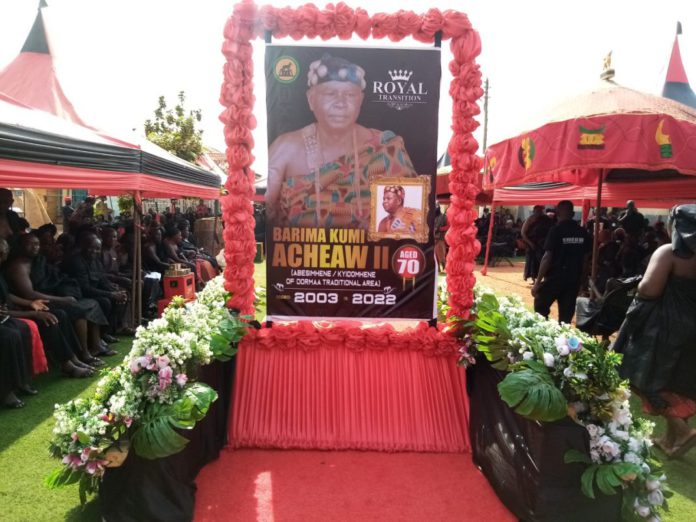 The Abesim Township in the Sunyani Municipality was in a state of grief and sorrow when the Dormaa Traditional Council announced the death of Barima Kumi Acheaw II, the Chief of the town on Saturday.
According to the Council, Barima Acheaw II, who was also the Kyidomhene (chief in charge of crowd) of the Dormaa Traditional Areal, died on September 30, 2022, after a short illness.
 He was 70 and reigned for 19 years.
He left behind a wife and six children.
Scores of mourners clad in mourning cloth, red armbands, and black head gear could not hold back their tears, when Barima Atosi Ababio, the Sumankwaahene (chief in charge of health) broke the news of the death of the chief at the Abesim Palace.
"As tradition demands, Osagyefo Oseadeeyo Agyemang Badu II, the Paramount Chief of the Dormaa Traditional Area, has asked me to inform you that Barima Acheaw II went for medical treatment, but he could not return and joined his ancestors," he stated.
 The solemn gathering was greeted with grief and sorrow as the people wailed uncontrollably, amid sporadic firing of musketries by some traditional warriors.
Describing the late chief as development-oriented, Nana Kyei Nketiah, the chief of the Adonten royal family of Abesim, later told the Ghana News Agency (GNA) that Barima Acheaw II played instrumental role in the development of the Abesim Township and the Dormaa Traditional Area.
Nana Nketiah said the late chief reigned between 2003 and 2022.
 Key among Barima Acheaw II's achievements, he said, included the construction of the Abesim Police station, the Ghana National Fire Service command, Abesim Health Clinic and a maternity block, as well as the Abesim Senior High School and a market.
ALSO READ:
Scores of mourners pay last respects to late Abesim Queen-mother
Machine explosion kills SHS student at Abesim
Nana Nketiah said with the consultation of Osagyefo Oseadeeyo Badu II, the Abesim Divisional Council had set up a committee to oversee the successful organisation of the final funeral rites of the late chief slated for March 23 to March 27, 2023.
"The best way we can appreciate the immeasurable contribution of our chief towards the development of the area is to endeavour to give him a befitting burial, as he joins his ancestors and we are determined to do so because Barima Acheaw II has really paid his dues," he stated.