A veteran football administrator has cautioned Ghana Football Association [GFA] president, Kurt Okraku to mindful of his utterances.
Mr Okraku has dominated the headlines following his interview with Joy FM last week Thursday.
The former Dreams FC Executive Chairman shockingly said "he cannot work with his enemies" when asked if he is running family and friends FA.
Many have criticised Mr Okraku's choice of words with former GFA vice president, George Afriyie being the latest person to take the FA boss to the cleaners.
On Monday, Mr Afriyie issued a statement to condemn Mr Okraku's words reiterating there are no enemies in the football fraternity.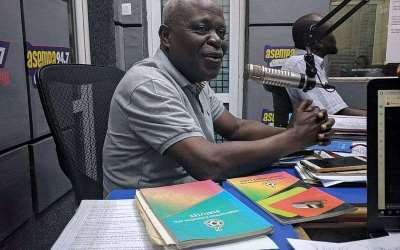 Kofi Manu, who is regarded as one of the best football administrators in the country, reminded Mr Okraku of the help he received from him before winning the closely contested election. 
READ ALSO
He revealed that on the eve of the election, disqualified Wilfred Osei Palmer's supporters were convinced to vote for Mr Okraku. 
"We saw that Kurt Okraku will be a better leader compared to George Afriyie based on the utterances of George Afriyie during the campaign period so we [Palmer's supporters] had to mobilise and vote for Kurt Okraku," he said on Asempa FM, adding that "On his [Kurt Okraku] own, he wouldn't have won and he is aware."
Mr Okraku has been in charge for four months with his mandate set to expire in 2022.