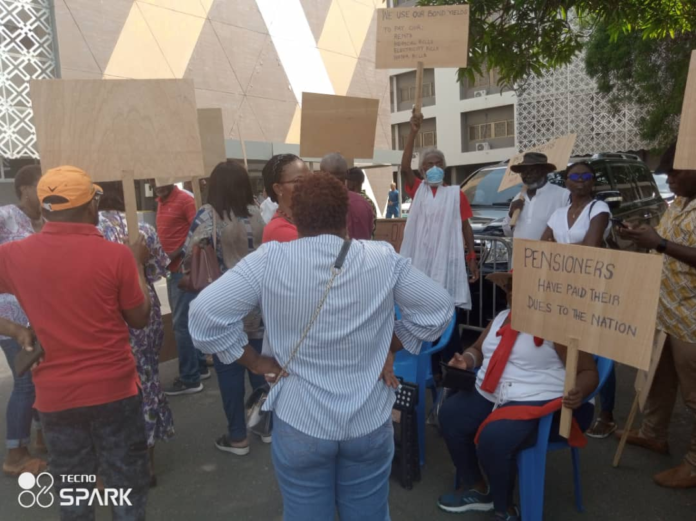 Individual bondholders are pilling pressure on the Finance Ministry to pay the over ¢4 billion in interest and principal on which the ministry defaulted.
The Individual Bondholder's Forum dispatched a letter to the Finance Minister, Ken Ofori-Atta demanding the payment of outstanding bonds that matured on February 6.
The Individual Bondholders Association of Ghana has taken it a step further. A delegation from the association was at the Police Headquarters on Monday to serve a formal notice of an impending 5-day protest.
The protest is expected to start from February 20 to 24. The Individual bondholders will be picketing at Black Star Square.
Per the agreement, a group of about 30 or 50 individual bondholders will be escorted to the Finance Ministry to present a petition and back within an hour to square.
In an interview, one of the conveners Dr. Joel Akwetey says government can avoid this picketing by just paying the bondholders.
"If they [government] do [pays], this picketing will actually not come on. So we're doing this in phases we expect between this week and next week – the 20th February, I would hear something favourable from the ministry, then we all rest easy," he said.
He added that "what we're simply asking of government is to honor the bonds that are due because before we went into the DDE Programme, we had an understanding that it's a voluntary process.
"And so government is expected that if one opts out, their coupons are honored and so we are going strictly according to the documents we have, and the assurance we had before this DDE programme, that all voluntary bondholders will not be penalised, they will be honored and so that's just what we want."
On his part, a private legal practitioner and convener, Martin Kpebu stated that government should not only honour its promise to bondholders but should also exempt individual bondholders from the Debt Exchange Programme.
According to him, picketing for five days will galvanize more support for the course of the group to push for an exemption.
The exemption protest, he said is a course for which individual bondholders must win at all costs.