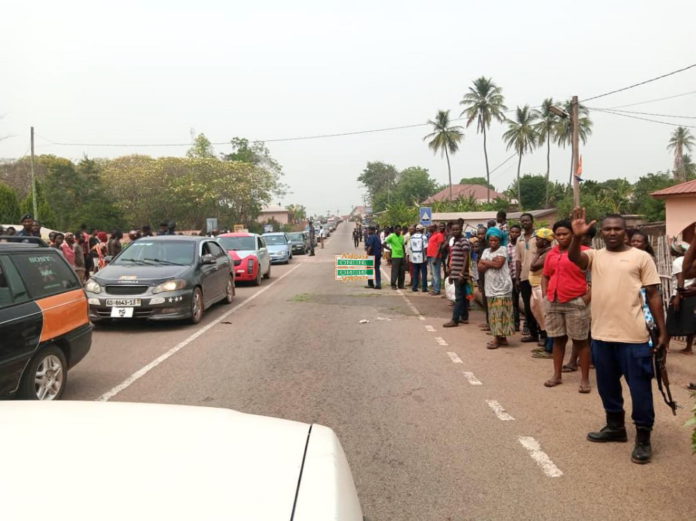 Julius Gator, brother of the man killed by a driver of the Ho West District Assembly in the Volta Region over Ghc 25 debt owed the assembly has narrated how the incident occurred.
Julius explained on Adom FM's Dwaso Nsem show that even though he was not present at the scene of the incidence, eyewitnesses account to him suggest the driver in question was part of a team that was at his brother's shop to demand the local assembly's tax of GHS 25.
He said his brother, the now-deceased Wisdom Darkey, told the revenue collection team that he was unable to pay the money immediately and pleaded with them for more time but the team wouldn't take his plea.
The situation, he said, resulted in a misunderstanding that led to the deceased's shop being locked up.
He narrated further that the revenue team, on locking the shop, were attempting to take the keys to the shop away, an attempt his brother was opposed to and resisted.
READ ALSO
As part of the resistance, Julius said he was told by witnesses to the happening that his brother lied on the bonnet of the taskforce vehicle to prevent it from leaving his shop until it was opened for him to conduct his day's business.
This action of his brother was said to have angered the driver who allegedly threatened to kill Wisdom if he did not give way to the vehicle to move.
He said as Wisdom refused to leave the car in the midst of the back-and-forth, the driver carried out his threat by running over him, killing him instantly.
Listen to Julius speak to Chief Jerry Forson on Dwaso Nsem in the audio above
Youth Burns Assembly's Office in Retaliatory Attack
Wisdom's death sparked protests by youth of Dzolokpuita who stormed the offices of the Ho West District Assembly in anger for revenge.
One of the assembly's vehicles was torched with the glass windows of the assembly building shattered.
Other accounts suggest the District Chief Executive of the assembly had to flee through his office window for fear of being killed.
ALSO READ:
Police's Side of Story
According to Corporal Prince Dorgbatse, Public Relations Officer of the Volta Regional Police Command, the driver, identified only as John, has since reported himself to the police.
He said the suspect was being interrogated on the matter, adding that the DCE was safe even though he failed to confirm or deny his exit through a window as has been rumoured.
He added that the police would, in due course, issue a statement on the incident.
Listen to the police's side in the audio below
Source: Adomonline.com | Dorcas Abedu-Kennedy