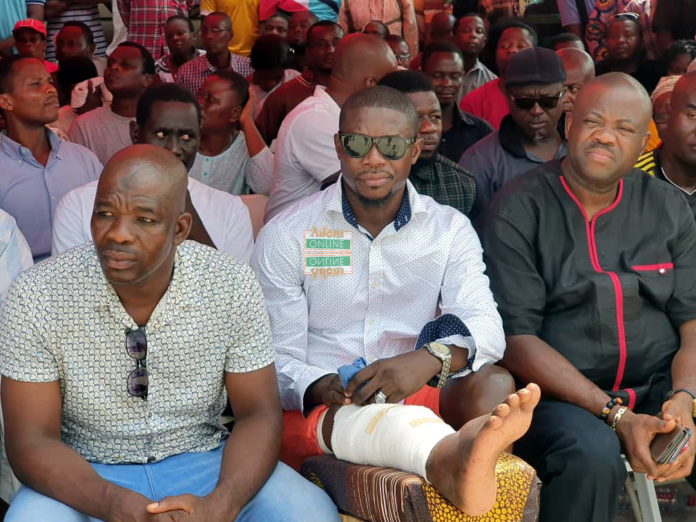 Two victims of the Ayawaso West Wuogon violence have narrated their living conditions following the La Bawaleshie by-election violence.
One of the victims, Yaro Isharo, narrating his ordeal said he was shot in his leg on that fateful day and harassed by the masked National Security personnel when observing the by-election process.
Revealing the post-effect of the life-threatening attack, he said the ordeal had affected his sleep tendencies as he can only lie in supine position.
"The incident that happened has really affected my sleep. I sleep backwards facing the ceiling; I cannot turn left or right," he bemoaned.
That notwithstanding, he revealed boxer shorts and knickers have become his new wardrobe as he has not worn trousers and long-sleeved shirt a year after the attack.
MORE:
Another victim, Havi Nelson, giving his account of the violence revealed the security officials attacked him when he went to intervene in the situation.
According to him, in a split second, the personnel started beating him till he fell to the ground despite attempts by onlookers to rescue him.
"I remember hearing people trying to come to my rescue but it did not happen. As I fell right in close proximity I heard serious firearms discharged towards me and that was it; I blacked out," he narrated.
He revealed it took him over 24 hours to come back to life after what he described as "state-sponsored terrorism."
Havi Nelson hinted his ordeal has taught him to be ready anytime and under no circumstances will he walk to a place 'blindfolded'.
They made these revelations at the first anniversary to commemorate the January 31, 2019 violence at the La Bawaleshie polling station in the Ayawaso West Wuogon Constituency.