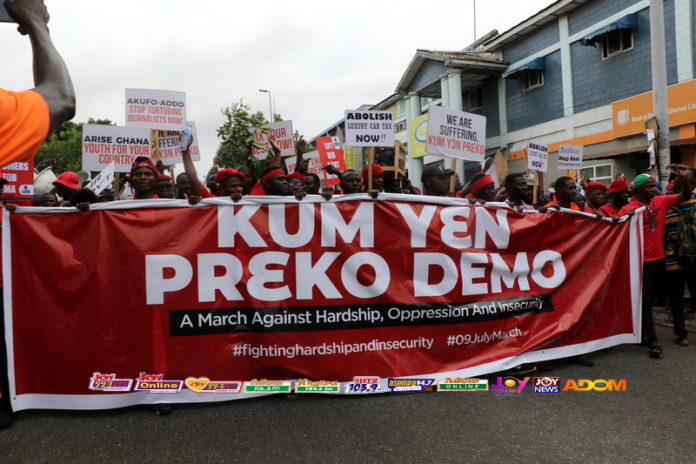 A Deputy Minister for Information, Nana Ama Dokua Asiamah Adjei has described the demonstration dubbed: 'Kum Yen Prek', organised by the Coalition for Social Justice (CSJ) as a sham.
According to her, over 90 percent of the protesters were members of the opposition National Democratic Congress (NDC) and therefore could not fathom why the name CSJ.
"I think this demonstration is purely NDC agenda entirely. When you look at this coalition, over 90 percent of the leaders are NDC members and so they should call a spade, a spade and tell us they are all NDC members," she said.
ALSO: 'Kum Yen Preko' demo, a wake-up call to Nana Addo – Otukonor
To her, Ghana has seen major demonstrations in the past, but the one by the coalition could not make up a single constituency.
"We have seen major demonstrations in the country and I can tell you that these particular protesters won't even make up their votes they get from one constituency. Not even in Odododiodoo or Korley Klottey constituency. It's very sad," she told Accra based Okay FM, monitored by Adomonline.com.
ALSO: Mahama's message to 'Kum Yen Preko' demonstrators
She observed that any motive behind the demonstration was a flimsy one as evidence on the ground showed that Ghanaians were not dying under President Akufo-Addo, as the name of the demonstration suggested.
ALSO: EOCO to investigate Sekyere East School Feeding rot
She said the NDC was mischievous and could never be expected to say anything good about the New Patriotic Party government and mischief motivated their declaration to participate in the 'Kum Yen Preko' demonstration which was against hardship in the country.
Source: Adomonline.com | Dorcas Abedu-Kennedy