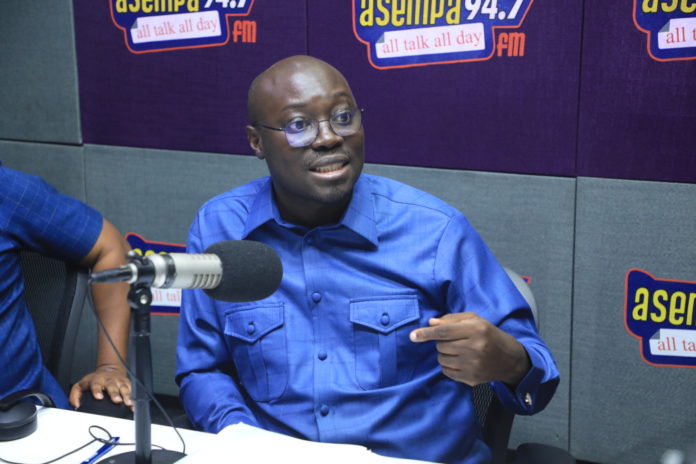 Minority Leader Dr Cassiel Ato Forson has withdrawn his application for recusal against the judge hearing his case of allegedly causing financial loss to the State.
His lawyers made this point when they were called to move his application for the Judge, Justice Afia Serwah Asare-Botwe to recuse herself.
The former deputy finance minister who is accused of causing financial loss to the state filed the application following the grant of a witness summons he requested from the court.
His lawyers had asked the court to issue witness summons for some of his witnesses including former health minister, Alex Segbefia, as they were facing difficulties in getting them to appear even though they had filed witness statements.
The judge, Justice Afia Serwah Asare-Botwe before allowing the motion to be moved, inquired why they resorted to a motion compelling the appearance of the witnesses while admonishing the lawyers of Dr. Ato Forson of the consequences of issuing an arrest warrant for the witnesses if they fail to appear.
His lawyers led by Dr. Bassit Bamba insisted that was the best option due to the difficulty in securing their appearance to testify.
But weeks after this request was granted, lawyers of Dr Ato Forson applied to the court for the judge to recuse herself on grounds that the admonishment by the judge amounted to bias. According to the lawyers, the caution by the judge was not only biased but also portrayed their witnesses as criminals who will willfully disobey a court order.
Withdrawal
However, Godwin Edudzi Tameklo, holding brief for Dr. Bamba, went back to the court to withdraw the application for recusal and subsequently withdrew same.
The trial judge consequently struck out the application as withdrawn.
Dr. Ato Forson, together with Sylvester Anemana, a former Chief Director at the Ministry of Health and private businessman, Richard Jakpa, are standing trial for willfully causing a financial loss of €2.37 million to the state, through a contract to purchase 200 ambulances for the Ministry of Health, among other charges.
The State led by Attorney General and Minister for Justice, Godfred Yeboah Dame and Director of Public Prosecutions, Yvonne Atakora-Obuobisa, called five witnesses and closed its case on February 14, 2023.
The witnesses paraded by the state include the Minister of Health, Kwaku Agyeman-Manu.
The case of the prosecution is to ascertain whether the defective vehicles were purchased in accordance with the purchase agreement approved by Parliament.
The State also wants to ascertain whether Dr. Forson was authorised by the substantive Finance Minister or any superior officer to write a letter to the Controller and Accountant General directing the establishment of irrevocable Letters of Credit (LCs) which led to the payments.
The case has been adjourned to October 2, 2023, in the new legal year.
ALSO READ: