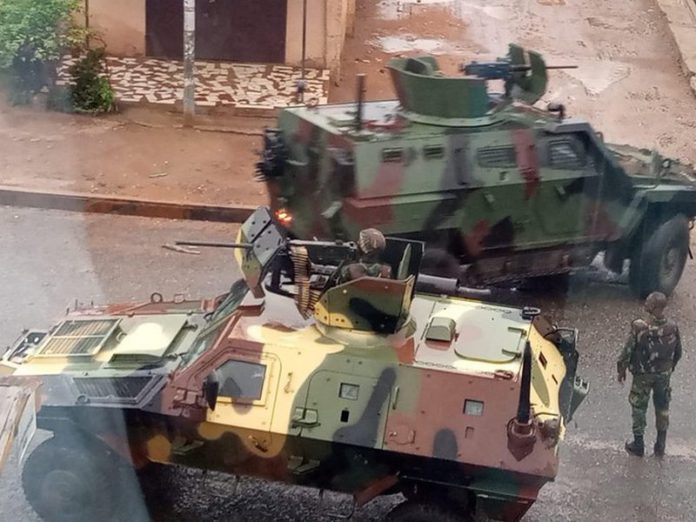 Deputy Defence Minister, Kofi Amankwa-Manu, has revealed that the military operation at Ashaiman on Tuesday dawn, was a sanctioned operation.
His comment was in reaction to an early morning raiding of parts of Ashaiman by military personnel following the murder of one of their colleagues days ago by unknown assailants in the area.
According to reports, an unofficial curfew was placed on residents in the area following the raid, and some residents were brutalised and rounded up by the military to an unknown location.
Speaking on JoyNews' PM Express, Kofi Amankawa-Manu said the operation was sanctioned by the military high command to investigate the death of the young soldier.
"And so at dawn this morning the soldiers mounted this operation to find or to bring to book the perpetrators of this heinous crime. And so the operations undertaken this morning was a sanctioned operation by the military high command, it's a well-coordinated operation, that's basically what's happening," he said.
According to him, the operation was necessary to curtail what he suggests is a growing attack on military men in the country.
"Because my brother, there is something happening in this country and I think that we really must be careful. Every now and then a soldier is killed, let us take our minds back, not too long ago, Major Mahama met his untimely death while on duty, this young man, a young soldier in military uniform going to the parents again was murdered. What really is going on?
"Is it a crime to step out to want to serve your country as a military officer? We don't get it, and we think that the earlier we nip this in the bud the better it will be for the whole country.
"It's important we do that. And so yes, the soldiers needed to move in to find out the perpetrators of this heinous crime," he said.
Meanwhile, the Deputy Defence Minister has apologised for the military's excesses but insisted the operation was a necessary action.
"I think that it is only proper that we admit when there are excesses and in operations of this nature you may get one or two people who may get carried away and so, I mean, if decent, innocent residents of Ashaiman were caught up in this operations, I in my capacity as the Deputy Defence Minister will want to apologise for that. That of course we will apologise, but, my brother, we're not going to apologise for the operations," he said.