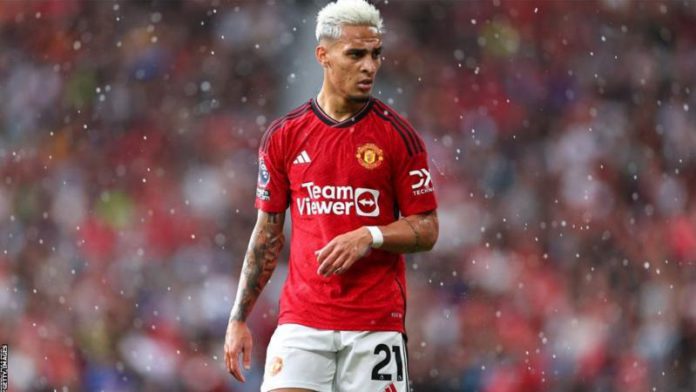 Manchester United winger Antony has flown back to England from Brazil and has agreed to meet Greater Manchester Police to answer questions about the serious allegations made against him.
It is understood the 23-year-old is willing to surrender his phone to GMP to aid their investigation.
His ex-partner Gabriela Cavallin made allegations of abuse via Brazilian news outlet UOL, which Antony denies.
Further assault allegations followed from Rayssa de Freitas and Ingrid Lana.
United say they are taking the allegations "seriously" and have granted Antony leave with full pay to deal with the allegations.
Antony had been in Brazil since reporting for international duty but was withdrawn from the squad when news of the allegations emerged.
On 4 September Brazilian news outlet UOL published allegations made by his former girlfriend Cavallin, in which she accused Antony of attacking her "with a headbutt" in a Manchester hotel room on 15 January, leaving her with a cut head which needed treatment from a doctor.
Cavallin also alleges she was punched in the chest, causing damage to a silicone breast implant, which required corrective surgery.
Antony previously said on social media about Cavallin's claims: "I can calmly state that the accusations are false and that the evidence already produced and the other evidence that will be produced demonstrate that I am innocent of the accusations made."
He released a statement in June saying he had been falsely accused by his former girlfriend of domestic violence. He was interviewed by police in Brazil in June but was not charged.
Local police raised no objection to the player returning to the UK.
Two further allegations arose when De Freitas and Lana each claimed Antony assaulted them in 2022, which Antony denies.
Lana, a 33-year-old banker, claimed in an interview with Brazil's Record TV that she hit her head when "pushed against a wall" by Antony at his house in Manchester in October 2022.