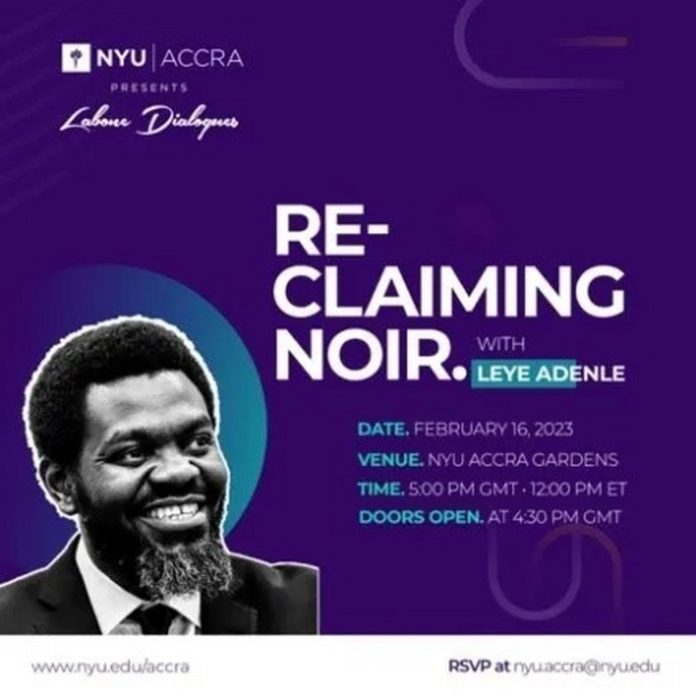 The 10th edition of New York University (NYU) Accra's signature public programme 'Labone Dialogues' will kick off on Thursday, February 16, 2023.
The program will be held at the NYU Accra Gardens, No 7 fourth Norla Street, Labone, Accra with doors opening at 4:30 p.m. in strict adherence to covid-19 protocols.
VIPs and special guests will be gracing the purple carpet before a public lecture on retaking control of our African stories through crime fiction.
Adenle, the author of thrillers 'Easy Motion Tourist,' 'When Trouble Sleeps 'Unfinished Business' and others will land in Accra from his London base spending his time in Ghana teaching, learning, and promoting NYU Accra's literacy efforts for Ghanaians.
In early 2020, the 'Labone Dialogues by NYU Accra' was conceived and it is curated by Prof. Chiké Frankie Edozien, the Global Site Director for the New York University campus in Labone.
Since then, iconic artiste's like the great Ama Ata Aidoo, the novelist, Ayesha Haruna Attah, the musician Wanlov The Kubolor, the playwright Latif Abubakar, the activist and former Member of Parliament, Samia Nkrumah have all graced the NYU Accra stage.
In December, Abubakar's forthcoming 'The Second Coming of Nkrumah' was previewed.
"Our first event was a tribute to local production of knowledge and a celebration of the late great pioneering musician, Kofi Ghanaba. I arrived in Ghana from New York and recognised that we had a unique opportunity as a global university to share our knowledge and have incredible classes and conversations for our neighbours and hosts, rather than keep them within our halls of academia," Edozien said. "
He continued, "This is why we made the decision to share the Ghanaba archives in NYU's possession with local scholars and the University of Ghana."
Since that first event, heavy hitters and multiple award winners in the African literary scene have flocked to NYU Accra for a chance to connect with Ghanaian audiences including Ethiopia's Maaza Mengiste, (The Shadow King) Nigeria's Abubakar Adam Ibrahim (Seasons of Crimson Blossoms) South Africa's Zukiswa Wanner, (London CapeTown Jo'burg) and Uganda's Jennifer Makubi (Kintu).
"We expect Adenle to follow in the tradition and take the tough questions but show us how he changes the narrative and continually highlights the role of African women forcing change inn big cities," Edozien added.
Adenle will be in conversation with literary blogger, Kinna Likimani. "Before doing anything worthwhile and that I'm going to be pouring my whole self into, I am anxious and excited, but mostly anxious about doing a masterclass," Adenle said from his home in London.
Edozien also emphasized that NYU is a private university that has always been in the public service hence Masterclass guests not only do public events, but also private givebacks.
Adenle will also be working with NYU partner, the Writers Project of Ghana for an intimate craft workshop for local writers after his artist talk.
Limited seating is available for this series which has become a favourite for the cognoscenti among Accra's cultural denizens and the diplomatic corps.