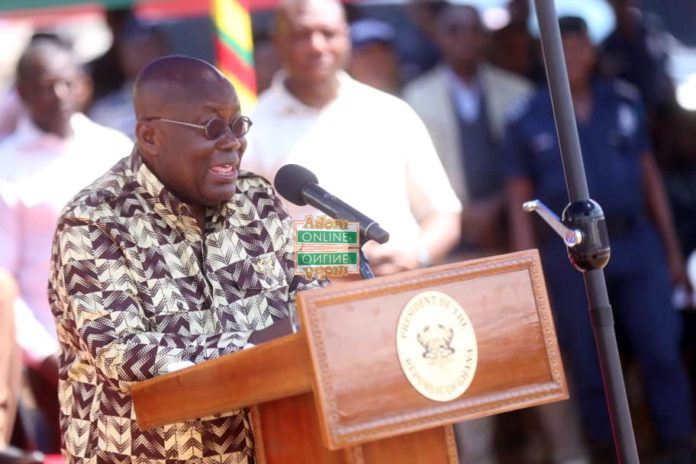 President of the Republic, Nana Addo Dankwa Akufo-Addo, has commissioned a $23 million dollar tomato processing factory at Afienya in the Shia Osu-doku Constituency of the Greater Accra Region as part of Government's 'One-District, One-Factory' (1D1F) policy.
The total investment of the Leefound Food Stuff Ghana Limited is about $23 million, covering an area of about 60,000 square meters, including comprehensive production workshop, finished products warehouse, raw materials warehouse, packaging materials warehouse and office buildings, among others.
The facility currently has three tomato paste filling production lines and their auxiliary production equipment, with an estimated annual output of 54,000 tons of tomato paste.
ALSO: All you need to know about NPP's Sunday National Delegates Conference
Speaking at a ceremony to formally open the Greenhouse International Development Group's Ghana Bright International Free Zone and to commission Leefound Food Stuff Ghana Limited, President Akufo-Addo, said Shai Osu-doku like the rest of Ghana is going to see serious transformation in the period of the Akufo-Addo Presidency.
Trade Minister Alan Kwadwo Kyeremateng noted that currently Ghana imports about $100m worth of fresh tomatoes mainly from Burkina Faso.
ALSO: 'They are after you, not me' – Donald Trump reacts to impeachment
According to him, with the coming of Leefound there will be processed tomato for local market and jobs.
Chinese Ambassador to Ghana, Shi Ting Wang, in his remarks noted that Ghana and China enjoy profound traditional friendship and Chinese companies are willing to invest and develop in Ghana.
He further indicated that the entire free zone area when completed will create several jobs for the people of the Shai Osu-Doku Constituency.