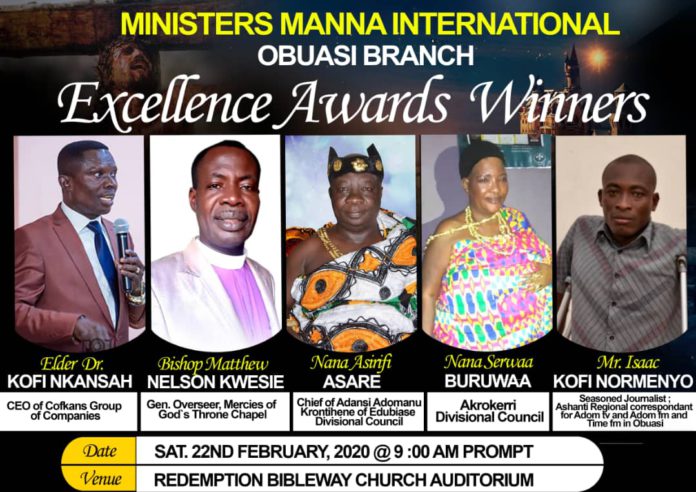 The Ministers Manna International has honoured Adom News' Obuasi correspondent, Isaac Kofi Normanyo.
The excellence award held at the Redemption Bibleway Church in Obuasi on Saturday February 22, 2020 was in recognition of Mr Normanyo's hard work in news coverage and reportage.
Speaking at the awards ceremony, Founder and Leader of Liberty Global Christian Church in UK, Archbishop Prof. Dr. Prince Hampel lauded Mr Normanyo for defying the odds even though he is physically challenged.
He added that the awards were to also honour Mr Normanyo for contributing to shaping public discourse and development.
ALSO READ
"Though handicapped in the leg Normanyo has a tough brain and has used the brain to bring development to the lives of many people across Ghana," he extolled.
Mr Joseph Chukwu of Kumasi-based Angel FM prayed for higher height for Mr Normanyo while saying that he hopes Mr Normanyo receives a BBC award someday.
Mr Normanyo in return expressed appreciation to the Multimedia Group Limited and Time FM in Obuasi for giving him a platform to contribute to nation building.
He also thanked the organisers for recognising his efforts together with four others.