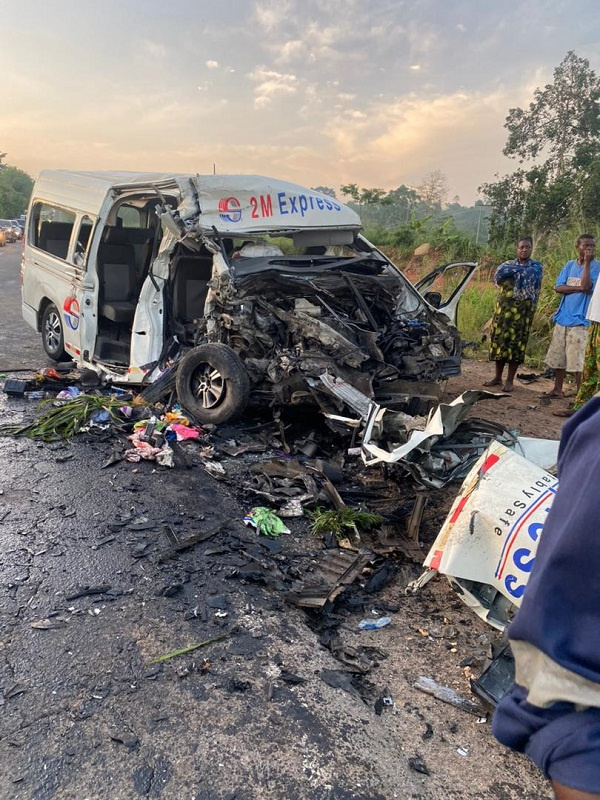 Management of 2M Express, a transport company whose bus was involved in a fatal accident on the Accra-Kumasi Highway has expressed deep sorrow over the incident.
Nine persons were killed with scores injured in the accident which occurred close to Bunso junction on Sunday, March 26, 2023.
An eyewitness claimed the 2M Express driver veered off to the lane of the oncoming bus from Kumasi and collided head-on at Birimso where a trailer truck carting container had been involved in a crash, with the container on the shoulder of the road.
But speaking on Adom FM's Kasiebo is Tasty, the Director, Daniel Okyem Aboagye dismisssed the report.
"There are reports that a 2M Express bus was speeding and diverted to cause the accident, but this is a falsehood. We have a tracking system installed on all our buses to ensure the safety and security of its drivers and passengers and it showed the driver was travelling at 90km per hour, which indicates he was not at top speed," he explained.
Narrating circumstances that led to the accident, Mr Aboakye narrated it was a GPRTU bus similar to theirs that caused the accident.
"A 14-seater GPRTU minibus, similar to 2M Express Toyota Hiace Bus, heading from Neoplan station in Kumasi to Accra which veered off the road into the lane of the 2M Express bus that was on its way to Kumasi from Accra," he added.
ALSO READ:
Nine killed, scores injured in fatal accident on Accra-Kumasi Highway
Ambulance transporting patient involved in accident
Meanwhile, he noted the company is working with the police to handle the situation as he expressed condolences to families whose relatives were involved.
To the injured victims, he wished them a speedy recovery and assured them of the company's support.