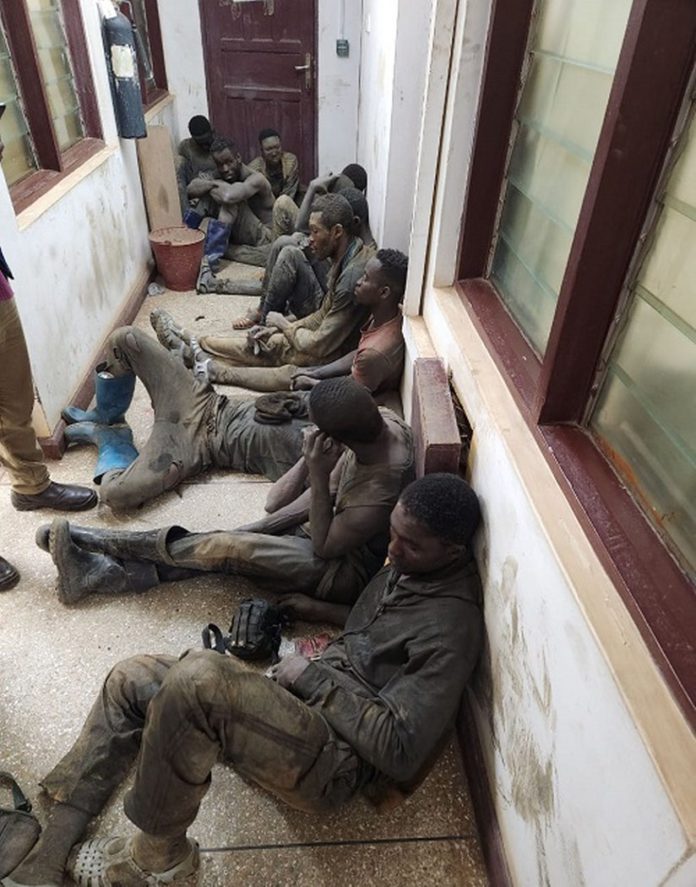 A total of 21 illegal miners who had invaded Felix hole (Cote D'or) underground operational area of AngloGold Ashanti (AGA) have been arrested by a joint team of Military/Police detachment at AngloGold Ashanti in the Ashanti Region.
They were picked up on 9th March 2023 at about 0600 hours.
The suspects were captured by a surveillance drone whilst surfacing from underground.
Items retrieved from them included small sacks containing gold-bearing ore and detonating codes.
They were handed over to the Obuasi Municipal Police command and subsequently arraigned before the Obuasi Magistrate court presided over by Her Lordship Joyce Boahen.
All the suspects were remanded into prison custody to reappear on 23/03/2023.
It would be recalled that some illegal miners were arrested at Cote d'Or on Friday, July 15, 2022, which raised eyebrows after they were laid in the mud prompting the Minority in Ghana's Parliament to issue a statement calling for investigations
The Cote d'Or mining site still remains in AngloGold Ashanti's 30% concession after ceding off 70% to Government in 2016.
ALSO READ:
Report of 11 illegal miners trapped underground false – AngloGold Ashanti
'Galamseyers' clash with Anglogold security; 2 in critical condition
The company on several occasions warned illegal miners not to sneak into the site but all have fallen on deaf ears.