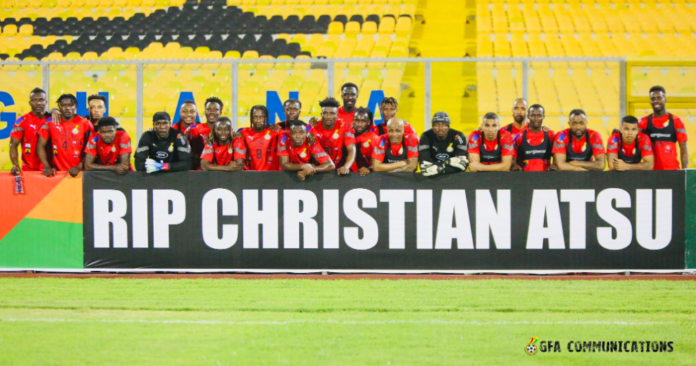 The Ghana national team, the Black Stars, paid tribute to the late Christian Atsu at Baba Yara Sports Stadium on Tuesday evening.
Atsu, who was a regular member of the senior national team, tragically passed away following an earthquake that struck Turkey and Syria in February.
The 31-year-old was trapped in a rubble and was discovered dead after 12 days of intensive search.
However, the current playing body did not have an opportunity to come together to mourn their former teammate, apart from social media messages.
After training on Tuesday at the Baba Yara Stadium, the team stood behind a placard that read, "RIP Christian Atsu," to pay their respects to the fallen footballer.
Atsu played for Ghana between 2012 and 2019 and was an important member of the Black Stars team. He was famously remembered for winning the best player at the 2015 Africa Cup of Nations [AFCON] in Equatorial Guinea.
Ghana is set to play Angola in the first leg of the 2023 AFCON qualifier at the Baba Yara Sports Stadium on Thursday, March 23, while the reverse fixture is scheduled for March 27 in Luanda.
The Black Stars are currently joint top of Group E with four points from two games, following a 3-0 victory over Madagascar and a 1-1 draw against the Central African Republic in June last year.
The team will hold their final training session on Wednesday at the same venue.