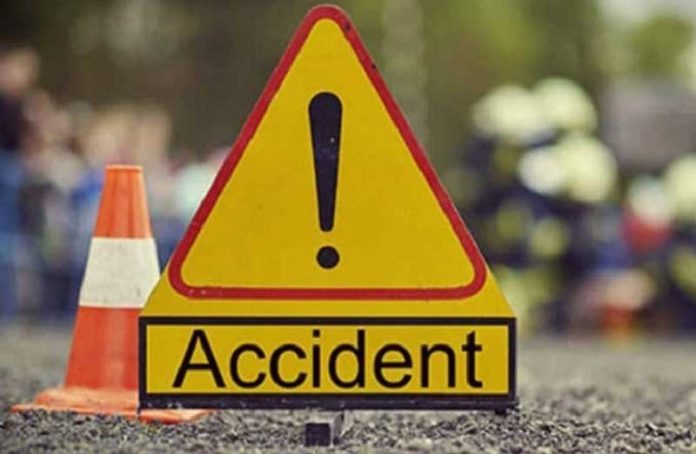 A heart wrenching motor accident that occurred near the Queen of Peace Junction on the Kansaworado highway in Takoradi has claimed two lives.
The accident which occurred Sunday around 10:15 am involved two vehicles: a taxi with registration number WR 1888-13 and a white private Saloon car.
Eyewitnesses said the private car was heading towards the Kansaworado direction from Anaji while the taxi was from the Kansaworado direction towards Anaji when suddenly the private salon car being driven by a youngman veered off its lane to the other lane in the far left and crushed into the taxi.
ALSO: Pupils displaced by fire in Kumasi
"We quickly pulled the driver of the private car but he was already gone and a girl of about 10 years believed to be a daughter of the driver and waited for the fire service to help remove the taxi driver who was trapped inside," one eyewitness narrated.
It took about 30 minutes for the fire service to arrive and the police also followed later according to the eyewitness. "The fire people had to cut the badly mangled taxi car to remove the driver who was unconscious," they further explained.
ALSO: Kasoa residents displaced after heavy downpour (Photos)
The driver of the private car Nathaniel Hammond, 29, a worker of Osam oil and Gas and the girl in the taxi who has been identified as Gifty Samafo, 10 a daughter of the taxi driver were pronounced dead soon on arrival at the hospital while the cabbie is in a critical condition.
Two other occupants of the taxi, Dora 18, and Mary Samafo 15, all daughters of the Taxi driver are all responding to treatment.
ALSO: Audio: My new Ghana has no space for conflict, 'unnecessary' violence – Akufo-Addo
The two vehicles have been towed from the scene and the road cleared to traffic while police investigation continues.
Source: 3news.com