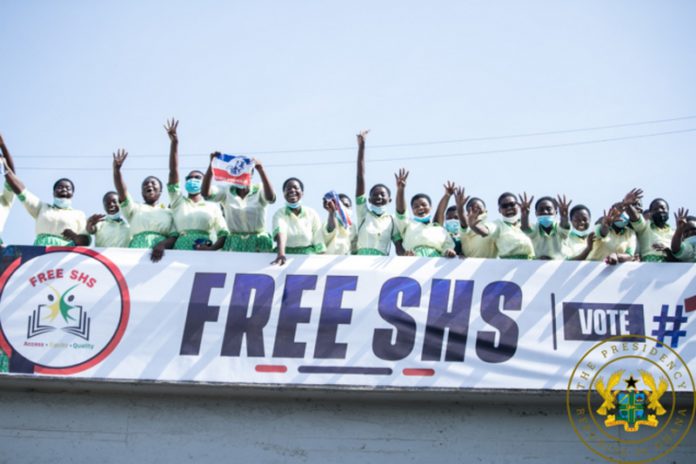 Spokesperson for the Ministry of Education, Kwasi Kwarteng, says the reason why the government's Free Senior High School (SHS) policy is not targeted is because Ghana lacks the structure to ascertain the incomes of parents and guardians.
According to him, in countries where free SHS policies are targeted to those from poor and marginalized homes or communities, there are systems put in place to verify and confirm that indeed the students are from such areas before being enrolled onto the free SHS.
He noted that introducing such a targeted system in Ghana will be counterproductive as Ghana's economy is largely informal and most citizens do not declare their assets and neither can the government track their revenues.
Speaking on PM Express, he noted that this is the reason why the government had opted for the untargeted free SHS model to reach all and sundry.
"I mean, initially you'll recall that we had close to 100,000 students that complete basic school and are unable to attend SHS or unable to proceed to the SHS level. So based on this you had the president making an intervention and making a promise that we are going to address such a situation. And so at the end of the day free SHS policy came to address such a concern.
"So, I mean, it was a question of whether or not you're denying 100,000 students access to education every year. So we made that bold decision and said that we're not going to deny 100,000 students access to education. But of course the contention has always been this; if you look at countries where the free SHS policy has been targeted those are countries that have very strong and reliable data on income.
"For instance, if you come to Ghana, especially within our informal economies, you are unable to look into the face of the woman at Abossey Okai or the woman at Makola and say that because government does not have any system and structures to track the revenues or the income you make annually, based on that your child qualifies or does not qualify for free SHS."
He said if such a free SHS model is prematurely introduced in Ghana, it may only apply to government workers whose incomes can be easily tracked owing to they being on the government payroll.
"Of course, the argument if you want to even sustain such logic, what it essentially means is that we may only be looking at those incomes that are very reliable and are always declared, that is, about the 700,000 or so people that are on government payroll annually and those are the people government is going to look into their faces and say that well, because we're able to track your income then it means that at the end of the day you're able to afford education at every level.
"So yes, at the end of the day, until we get a very reliable system that will be able to help us track the various income that we as a people generate, and of course beyond the system too, until citizens also develop that habit of reporting income truthfully so that government will be able to know that this person is eligible for free education that person is not eligible for free education, we will be denying most students access to free education and that will take us to the earlier problem that we had where more than 100,000 students were denied access to education at the end of the day."
In IMF's May 2023 country report on Ghana, it said the government had promised to "review all government flagship programmes and publish a strategy to decide their future course."
The Free SHS programme is a key component of government's flagship programmes and it is estimated to cost some GH¢2.9 billion. The International Monetary Fund (IMF) has described the Free SHS as poorly targeted.
The IMF also disclosed that Ghana spends close to 4% of its GDP on education with good results in terms of enrollment but poor learning outcomes.
Key identified areas by the IMF which need potential improvement in education spending include strengthening primary education resources, better teacher training, and stronger performance-based funding practices.