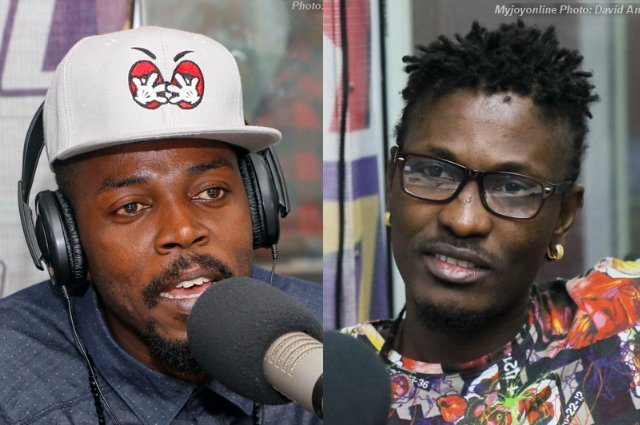 Hiplife artiste Tinny has been getting some jabs thrown at him from rappers Kwaw Kese and D Black after he called the duo wack.
On Friday, April 26, Kwaw Kese in an interview on Hitz FM threatened to slap Tinny for calling him wack.
Kwaw Kese told Dr Pounds, Tinny made such comments only to trend on social media.
The rapper said he did not appreciate his name being dragged through the mud just for another artiste to gain fame from it.
SEE THIS: Medikal finally releases 'Father' visuals featuring Davido (Video)
Kwaw Kese referred to Tinny as a "dead goat" stating the hiplife artiste just wants to ride on his name to resurrect his dead career.
The rapper was also angry Tinny called him out on the awards in wheelbarrow stunt he pulled at the 2017 Vodafone Ghana Music Awards (VGMA).
Kwaw Kese in 2017 at the VGMA appeared at the red carpet with his awards in a wheelbarrow claiming to be selling them.
Tinny in an interview with Dr Pounds on Hitz Gallery on Hitz FM said the action was an insult to all artiste in Ghana.
Kwaw Kese told Dr Pounds on Friday, Tinny has no awards to his name even though he (Tinny) was in the music scene before him.
According to Kwaw Kese, Tinny still lives with his mother in her house with all his five children, yet he has the guts to insult him.
ALSO SEE: Akrobeto cautions Lilwin, Zack over prophet Nigel Gaisie's 'padlock prophecy'
The rapper, who was furious during the interview, said if Tinny has the guts to call him wack, he (Tinny) should not smile whenever they meet up else he (Kwaw Kese) would beat him up.
Kwaw Kese said if the artiste can be brave and run his mouth on radio, he should be brave and ready to fight when they meet.
Also, D Black refused to do a collaboration with Tinny after he received a message from the artiste saying the comment was to create a hype.
Source: myjoyonline.com