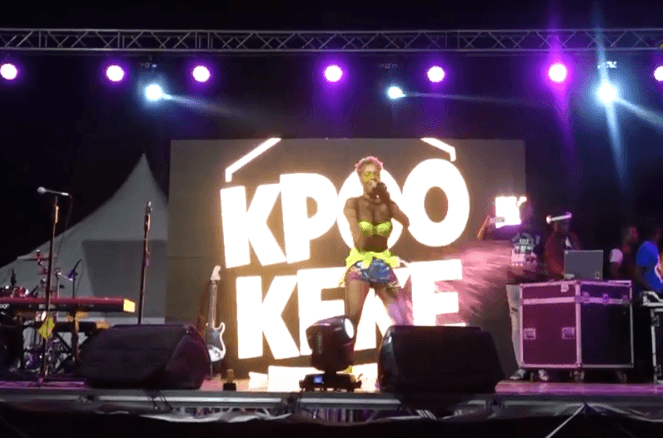 Ghanaian singer, Feli Nuna last weekend walked off stage after a fan threw water at her during Ebony Reigns's memorial concert that took place at West Hills Mall, Kasoa.
It was speculated that the incident happened after she praised Dancehall act Stonebwoy prior to her performance.
She walked off stage without any explanation depicting how angry she was after the unfortunate incident.
In a recent video, she explained herself and asked her fans to forgive her.
SEE THIS: I was born out of rape-Helen Paul reveals
According to Ms Nuna, she thought it was right to eulogise Stonebwoy since they had a song together and she was promoting it, hence she couldn't fathom why some fans would attack her.
Female singer, Eshun was quick to comment after Ms Nuna's explanation saying: "We ain't stopping! You realise it's we the women who are being treated this way but I am excited you ain't giving a rat 🐀 a$$ about that. Keep going Bae!🔥🔥🔥."
In a long caption on the photo and video sharing app, Instagram, Ms Nuna had this to say:
ALSO SEE: Nana Ampadu convinced my mother to allow me do music – Akosua Agyapong reveals

"Guys I'm okay o. I'm good. Thanks so much for your concern. Truly heartfelt cos i really didn't know i had that much love from Ghanaians. The calls, messages, treats, gifts, DMs etc.. Thank you! What happened at the Ebony memorial concert was unfortunate. Very unfortunate because I only came there to celebrate the legacy of my late bestie. 'LOVE ME NOW' which is my current song features @stonebwoy and like I do most of the time, big up the Edzo and Bhim empire for this collaboration. If that merits me being attacked on stage then i don't know what this country is coming to. I came to only entertain my supporters, fans and well wishers. I don't acknowledge no bad vibe. Thank God i wasn't injured.
I DEEPLY APOLOGIZE TO MY FANS FOR WALKING OFF STAGE.
The public opinion that says I'm not a good enough performer because i didn't continue after objects were thrown at me; think of me as your sister. Would you have asked her to stay till she bled?
This vile act by audience should be put to a stop!! I'm not the first to be attacked but I hope to be the last!!! Measures should be put in place by organisers to ensure that drunk or overly excited audience do not even think of attacking us the artistes on stage again because we are ultimately here for you. ♥️ #EDZOLEME 🔥
(.. Dropping a new single soon)
Watch the video above:
Source: Adomonline.com/ Dennis Adu/ dennis.adu@myjoyonline.com