Artiste manager, Lawrence Nana Asiamah Hanson, popularly known as Bulldog, says his relationship with the Shatta Movement boss, Charles Nii Armah Mensah aka Shatta Wale, is more like they have a blood covenant.
Bulldog managed Shatta Wale in the peak days of his music career but parted ways along the line when matters escalated among them.
They jabbed themselves on social media on several occasions where people in the public sphere thought they wouldn't see eye-to-eye any longer.
SEE THIS: Video: Shatta Wale cried like a baby – Bulldog reveals
However, he became the Artiste Manager at Zylofon Music and indirectly or directly managed both Shatta Wale and Stonebwoy until their contracts elapsed.
One thing that tends to surprise many is the recent closeness between Bulldog and Shatta Wale.
Bulldog has stood his grounds for Shatta Wale and threw his weight behind him during the recent scuffle between Shatta and Stonebwoy at the 2019 Vodafone Ghana Music Awards (VGMA).
ALSO SEE: PHOTOS: Shatta Wale and BullDog falls 'in love' again
He portrayed his undying support by following Shatta Wale when he was arrested until court decided to grant him bail after the VGMA brawl.
Joy News's Doreen Avio in a close interview with Bulldog asked him if he had returned to his post as Shatta Wale's manager in a subtle manner.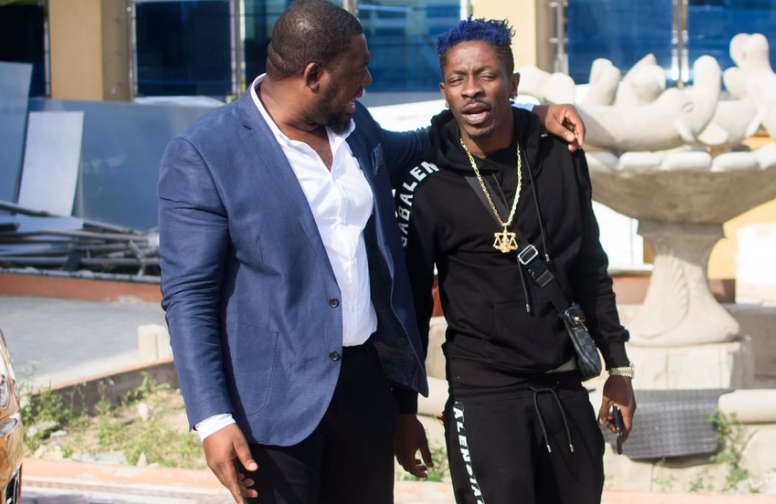 SEE: Wealth cannot afford respect and recognition – Bulldog replies Shatta Wale
In response, he laughed and said, "I've always been a bother to Shatta Wale and we've really worked. I have worked with both [Stonebwoy and Shatta] but with Shatta Wale is like we have a blood covenant. We are not going anywhere until death do us apart, [sic]" he said.
SEE MORE: Bulldog's love for Togo jeans is immeasurable – Shatta Wale
Talking about the clash between Shatta and Stonebwoy who are set to reappear in court on June 20, 2019, he asked Ghanaians, especially the media to help them maintain the peace between the two camps.
RELATED: I will beat Shatta Wale over Ebony – Bulldog
"I am just gonna congratulate Stone and Shatta. I think it's important that we help them. We should help them maintain this peace. Sometimes we throw unnecessary things…If there's gonna be a war in this country, it won't come from the people but the media. Throwing tantrums won't help. I beg we all stay calm and push the peace," he said.
Source: Adomonline.com | Dennis K. Adu