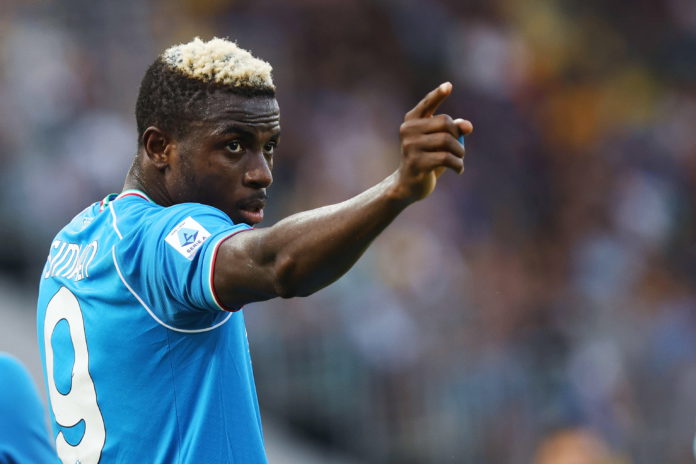 Napoli striker Victor Osimhen says he has "unwavering" love for the club and has urged "unity" among its fanbase.
The Serie A club were criticised for sharing a video on TikTok appearing to mock the Nigerian for missing a penalty last week but said they "never meant to offend" the 24-year-old.
The footage included a caricature voice saying "gimme penalty please".
After scoring in Napoli's 4-0 win at Lecce on Saturday, Osimhen reiterated his love for Napoli on Instagram.
"Coming to the city of Naples in 2020 was a wonderful decision for me," said Osimhen.
"The people of Naples have shown me so much love and kindness, and I will not allow anyone to come between us.
"The passion of the people of Naples fuels my fire to always play with my heart and soul, and the love for the badge is unwavering as I wear it with pride.
"I have a lot of friends who are Neapolitans and have become part of my family and everyday life. I appreciate Nigerians and everyone for lending their voices to support and reach out to me.
"Let's continue to spread unity, respect and understanding. Forza Napoli Sempre."
Osimhen's agent threatened legal action against the club for the post, which has now been deleted, while manager Rudi Garcia said midweek he is "invested 100%" in the Serie A club despite the incident.
Nigeria's Sports Minister John Owan Enoh said his country is pursuing diplomatic avenues with Italy over the incident, and insisted the Nigerian government places a priority on protecting the welfare of its athletes.
"We are committed to ensuring our sportsmen and women are accorded the respect they deserve and are not exposed to any injustice," he said.
Osimhen joined Napoli for a club-record 81.3m euros (£70m) in the summer of 2020 and he was integral to helping them win a first Serie A title in 33 years last season, scoring 26 goals in 32 league appearances.