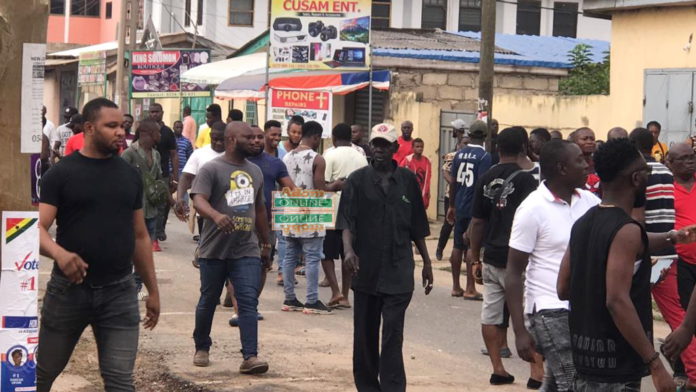 Assembly member for Kokomlemle in the Accra Metropolitan District, Moses Abor, has accused Nigerian traders of fueling the clash between Ghanaian and Nigerian traders in the area on Monday.
Mr Abor, who was at the Tiptoe Lane where the clashes happened to witness things for himself, alleged that the Nigerian traders were armed and ready to attack their Ghanaian counterparts.
"You can go to the police and check the records; any assault case you hear began with the Nigerians," he said.
Mr Abore, speaking on Adom FM's morning show Dwaso Nsem, Tuesday said the situation would have gotten out of hand but for the timely intervention of the police and the leadership of the Ghana Union of Traders Association (GUTA).
"The Ghanaian traders feel the Nigerians are taking over the trade in Tiptoe Lane, and they are not happy about it," he said.
He called on the leadership of GUTA and the government to intervene to avoid escalation.
ALSO READ
Three people, according to the police, were injured in the clash with six others arrested.
Tension has risen between Ghanaian and Nigerian traders in recent times, shops belonging to Nigerian traders in Kumasi, were allegedly shut down by GUTA some months ago.
Ghanaian traders feel foreigners, particularly Nigerians, Chinese and Lebanese have taken over retail businesses in the country, contrary to the law which prohibits them from engaging in retail business.
Source: Adomonline.com | Dorcas Abedu-Kennedy