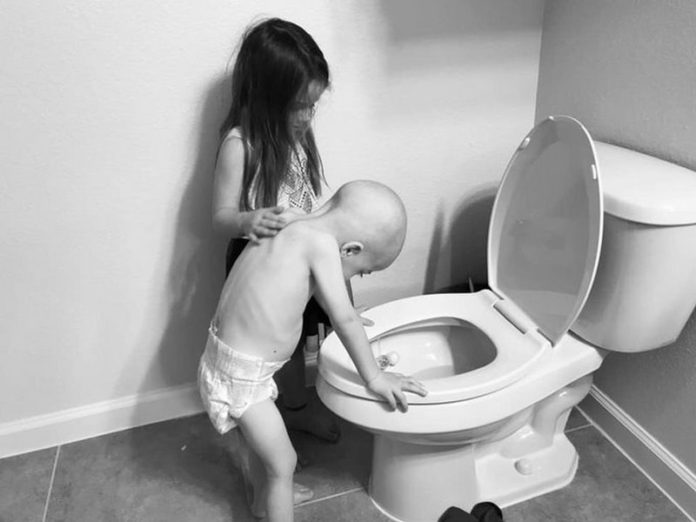 This heartbreaking photo shows a little girl rubbing her four-year-old brother's back while he's sick from chemo during his cancer battle.
Beckett Burge was diagnosed with acute lymphoblastic leukaemia in April 2018 and since then has spent months in hospital having treatment.
His selfless sister Aubrey, 5, shuns playing with pals to stay and care for her sibling.
Mum Kaitlin Burge, 28, of Texas, US, decided to release the striking image of her children, taken in January, to show the importance of family in times of crisis.
It shows Aubrey comforting her brother as he leans over the toilet being sick.
Kaitlin said that after the photograph was taken, Aubrey then washed her brother's hands and carried him to the couch before offering to clean the bathroom.
"When I see them together, it makes me happy but at the same time it makes me sad," the mum-of-three said.
"They have an incredible bond. To this day, they are closer, she always takes care of him.
"A child that's four or five years old should be outside playing with their friends.
"She should be out doing gymnastics, running around the neighbourhood with the kids, playing in the playground, swimming in the pool — but here she is taking care of her brother.
"They're very close — they always played together. He'd play dolls with her and she'd play superheroes with him.
"We encourage her to go outside and do things, but she'd rather have her eyes on him," she said.
source: news.com.au