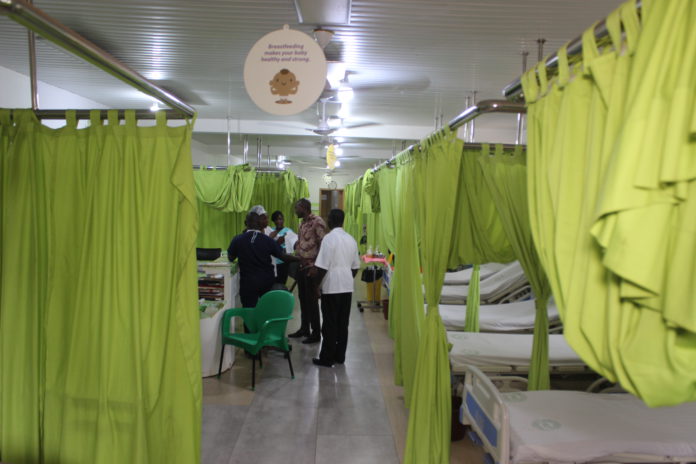 The Tema General Hospital has, for the first time in many years, recorded sharp decline in maternal mortality rate.
Years ago the hospital could record as high as over 40 maternal deaths in a year due to under-resourced labour ward and delayed reported cases among others.
Statistics available indicate that between January and August 2018, the facility recorded 20 cases but that has reduced to eight, same period this year.
Speaking to Adom News, authorities said an ultra-modern 40-bed maternity block worth over GH¢ 5 million built by MTN Foundation and equipped in 2018 is making the difference.  
Principal Nursing Officer, Unit Head at the labour ward, Joana Boakye disclosed this when MTN Foundation visited the facility a year after handing it over.
ALSO: Govt inaugurates 17-member new UEW Governing Council
Tema General Hospital, being a referral centre, attends to cases beyond its catchment area including those from some parts of Volta region.
The situation put extreme pressure on the hospital's limited resources.
"In the previous building, you realise that there weren't enough beds so mothers in labour could be on benches waiting to get a bed to deliver. This made it difficult to monitor them. We end up losing babies and mothers end up getting complications," she said.
ALSO: Ghanaian-born US citizen posed as soldier in dating site scam – prosecutors
Corporate Services Executive at MTN, Samuel Koranteng was excited the new maternity facility is saving lives.
"We are more than happy to know that this unit is impacting positively on deliveries for this hospital as well as mortality for mothers. And the figures speak for themselves. Now that the figure has dropped to eight, we hope it will further decline to zero by the time we visit next year," Mr Koranteng said.
There is a special maintenance committee in place purposely to ensure that the building and the equipment are maintained.
MTN Foundation promised to provide more assistance to improve healthcare delivery at the unit.
Over 5,000 babies have so far been delivered at the new maternity unit in the last 12 months.  
Source: Adomonline.com | Adom News | Kwame Yankah