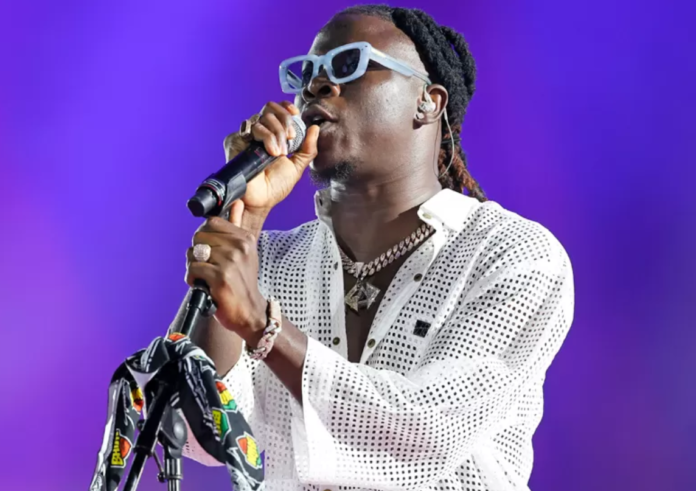 After his successful "5th Dimension" 2023 USA and Canada tour, international reggae, dancehall, and afrobeats composer and performer Stonebwoy is back on the road for his all-new "5th Dimension" Australia, UK, and Europe Tour.
On Friday, September 29, the Ghanaian-born entertainer brought his sold-out "5th Dimension" world tour to Doug Jennings Park on the Gold Coast, marking the first of three shows scheduled to take place in Australia this Autumn.
Stonebwoy performed before a capacity crowd of over 20,000 fans at the 2023 Promiseland Festival, making a triumphant return to touring in Australia since the 2016 "Go High Tour".
The BET award-winner's performance was a carefully curated journey through his illustrious career, seamlessly transitioning from soulful tunes to hard-hitting anthems.
He delivered a performance with a setlist that spanned his entire solo catalog. However, he performed nearly every song from the new "5th Dimension" album, including the hit singles "Into the Future", "Activate", "My Sound", "Life and Money", "Therapy", "Manodzi," featuring 5x Grammy Award-winning singer Angelique Kidjo, and "Non Stop."
Stonebwoy's headlining "5th Dimension" Australia tour continues on Sunday, October 1st, in Perth at the Metro City, which is already sold out, before working its way through some iconic venues in Europe and the UK over the course of October.
The "5th Dimension" world tour also includes an extensive run of Europe and UK dates: Stonebwoy will perform in Brescia, Italy, on October 14th, Amsterdam, Netherlands, on October 15th, and a trio of performances in Berlin, Hamburg, and Dusseldorf, Germany, on October 19th, 20th, and 21st, respectively.
It continues in the UK on October 26th in Manchester and Birmingham on October 27th, with a concluding date set for October 29th at London's Electric Brixton.
The "5th Dimension" world tour supports Stonebwoy's 2023 album of the same name. Widely hailed as a career-best, the album was acclaimed for its pivot to African and Caribbean styles such as afrobeats, reggae, dancehall, amapiano, folk, and other styles while leaning primarily toward pop-related themes.
The album, which showcases the artist's evolution and growth, pushing boundaries and delving into uncharted musical territories, debuted at No. 8 on the Billboard World Reggae Album Charts.