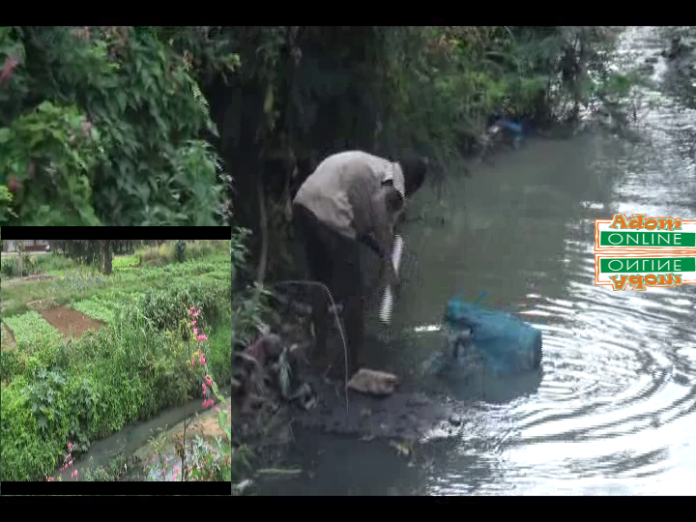 There is a general upsurge in urban farming; particularly, in the capital, Accra. So, such areas as Achimota, Dzorwulu, Kanda and around the Accra – Tema Motorway host hundreds of vegetable growers.
These are mainly youth who are either doing mainstream market gardening or peasants engaged in hand-to-mouth agriculture. The vegetables and other crops produced in the capital include common and uncommon species, just as the suburbs are varied and the total acreage quite considerable.
ALSO: Withdraw deadlines, let's sit and talk –Victor Smith begs Okyeman
So, under what conditions do these people do their farming? How safely or otherwise do they apply agro-chemicals and other farm inputs? Do they endanger their lives and ultimately the lives of their customers?
Do they farm under the supervision of Ministry of Food and Agriculture extension officers; or they practice as they deem fit? One sure cause of worry is the fact that most of them grow their crops along some of Accra's big gutters, drains overflowing with filth, eyesore and diseases. And, scores of farmers actually draw effluence to irrigate their crops!
Indeed, the disgusting practice continued till it recently drew so much public dissent that some farmers have begun using water from dugouts as an alternative. Good news is that, at such a place as Dzorwulu, the seasoning growers have formed an association to – among welfare pursuit – check the harmful use of poisoned water.
ALSO: NPP hold elections at orphan constituencies on Saturday
The poisoned water use remains widespread, nonetheless. For instance, along the Kanda main drain, the News Team met this man called Ibrahim tending vegetables; Ibrahim admitted that he and his colleagues use gutter water for irrigation but claimed it was on the recommendation of no less a state agency than the Water Research Institute under the Council for Scientific and Industrial Research (CSIR).
But, viewers' guess is as good as our News Team's: the Director of the CSIR-Water Research Institute, Mike Yaw Osei-Atweneboana, vehemently denied the approval, reporting that dozens of tests his outfit ran on the water these growers use all proved the water too unwholesome for farming and consumption.
He added that his office has been schooling the growers to use water from wells, but such recommendation has largely fallen on deaf ears, with only a handful of farmers being charitable enough to comply.
For about 100 years now when Accra and Tema have been growing very fast, there has corresponding growth in the need for fresh tomatoes, peppers, onions, cabbages, carrots, lettuce, and vegetables. And, the closer they are farmed near the market, the fresher they tend to be; hence, the hundreds of vegetable farmers in Accra. But, the poisoned vegetables could have been averted, if the authorities had maintained a State Farms branch opened about 15 kilometres away from the heart of Accra – at Dawhenya, near a river dam.
ALSO: Audio: Kweku Baako reacts to alleged coup plot
In 1959 the State Farms Corporation started the Dawhenya Irrigation Scheme; by the mid 1978s the scheme was in full operation under Kutu Acheampong's Operation Feed Yourself – mainly producing vegetables for what was then called the Accra-Tema City area. The records show that by 1978 (41 years ago), a total irrigable area of 450 hectares had been reserved for what farming is now done near the Odaw and other gutters.
Today, more than half of this irrigable land has been developed (or rather destroyed) by estate builders, individuals and sand winners. The land is gone, the multi-million-cedi dam has turned into frogs and mosquitoes pond and the farmers are now scooping faecal matter and raw poison onto tens of tonnes of tomatoes, onions, sweet peppers etc. for the millions of people who consume in Accra, Tema, Kasoa etc. every single day!
Source: Adomonline.com | Adom FM | Kwame Anum