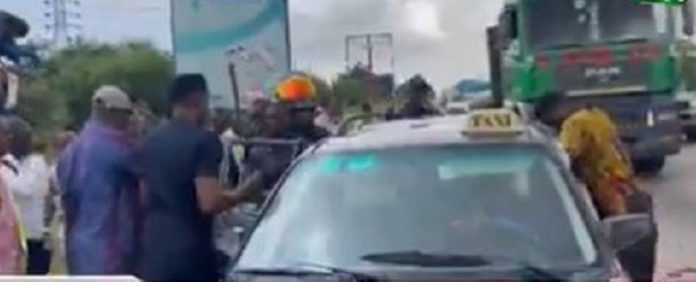 The timely intervention of Roads Minister, Kwasi Amoako-Atta, on Wednesday saved a yet-to-be-identified man who was involved in an accident on the Tema Motorway.
Mr Amoako-Atta, who was plying the road at the time of the accident, reportedly stopped his convoy to attend to the victim who was bleeding.
The minister, according to reports by Accra-based UTV, was on a tour to inspect road projects in parts of the region when he came across the accident victim.
The victim was a motor rider who was hit by an articulator truck.
The accident was said to have occurred in an attempt by the articulator driver to dodge a vehicle which stopped abruptly in front of him due to a tree stump which was in the middle of the road.
ALSO READ:
STC bus transporting SHS students crashes on Kasoa-Cape Coast highway
NDC Women's Organiser accused of mixing 'husband's food with broken bottles
Mr Amoako-Atta hired a taxi to transport the victim to the hospital and also provided money to cater for the treatment.