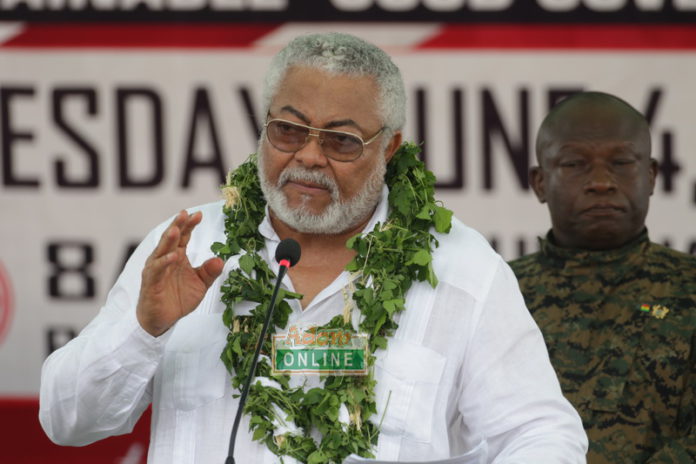 Former president Jerry John Rawlings says he's shocked at the national television broadcaster, GTV, for describing Robert Mugabe as a rebel leader.
Mr Rawlings in a social media post Thursday night said a GTV news anchor on Wednesday, September 11, tagged the late former Zimbabwean president as a rebel leader.
It is unclear who the news anchor is as Mr Rawlings failed to state the name in the post.
READ: Photos: Mahama mourns with Chief Imam
Though he said he has not lost sight of the "disproportionate influence" of some western countries over the local media, he said it was shocking and disheartening for the news anchor to denigrate such an African freedom fighter.
"…to hear the newsreader on GTV yesterday refer to the late Mugabe, a former freedom fighter and leader as a rebel leader, was not only shocking but truly disheartening" he tweeted.
"A rebel leader?" he asked rhetorically, stating it was "unbelievable" to hear that from the mouth of a Ghanaian newsreader on national television.
ALSO: Corruption: Fix it and stop complaining – A Plus reacts to NPP press conference
Below is his Tweet
…to hear the news reader on GTV yesterday, refer to the late President Mugabe, a former freedom fighter and leader as a rebel leader was not only shocking… pic.twitter.com/oNTF2D3VKY

— Jerry John Rawlings (@officeofJJR) September 12, 2019
As Zimbabwe's first post-independence leader, he ruled until 2017 when he was ousted by a military coup.
Mr Mugabe, who was 95, died last week while undergoing medical treatment in a Singapore hospital.
His body will lie in state at the Rufaro football stadium in Zimbabwe's capital, Harare, for two days as part of a state burial being given the man who has been declared "a national hero" by the ruling Zanu-PF party.
Source: 3news