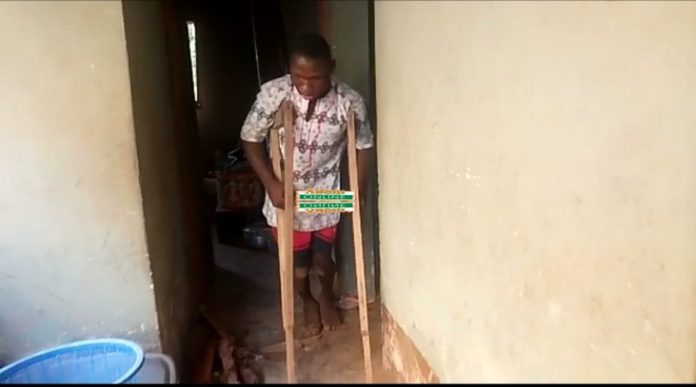 Atta Gyamiah, a physically challenged pupil who has defied all odds to pursue education, is appealing for support.
Determined Atta Gyamiah is a Junior High School (JHS) 2 pupil of St. Kizito JHS at Kpandai in the Kpandai district of the Northern region.
Atta revealed he managed to get a school uniform from Camfed, a Canadian Non-Governmental Organisation's operations in the Northern region about three years ago which he still wears.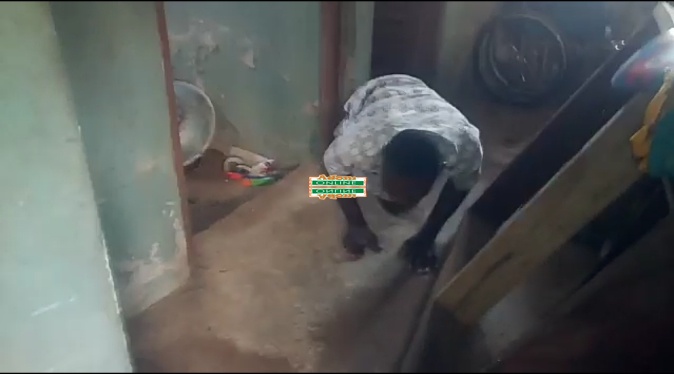 ALSO: 24-year-old teacher found dead in his room
Narrating his ordeal in an interview with Adom News, Atta disclosed his guardian angel and source of hope, his grandmother died some years back leaving him to face life all alone.
He has no place of shelter except for an uncompleted toilet facility in his late grandmother's house.
According to his mother, Beatrice Gyamira (Maa Bee), Atta has not been able to walk since childhood.
Together with an auntie who wanted to help, the two decided to seek medical help for him.
They visited several health facilities including Komfo Anokye Teaching Hospital in Kumasi, Koforidua Regional Hospital and Dua Yaw Nkwanta but to no avail.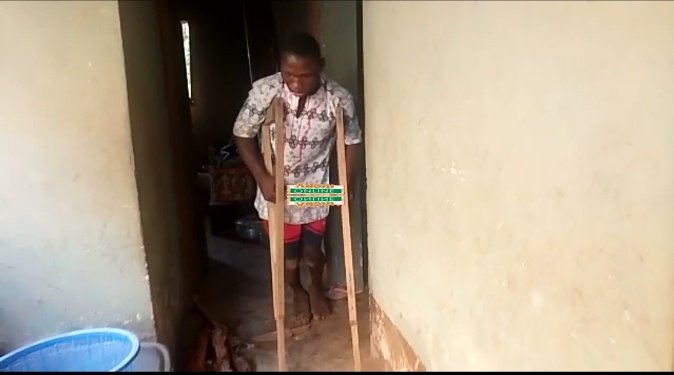 Atta and his mother are helpless at this point because the auntie is deceased.
Recounting her experience and pain in having to raise two boys all by herself after the death of her aunty, Maa Bee shared how the father of her children abandoned her in the early days of her pregnancy and never returned.
According to her, their love story began in school and both families had agreed for them to get married. To her surprise, the father of her children, whose name she didn't mention, lost interest in the relationship soon after she conceived.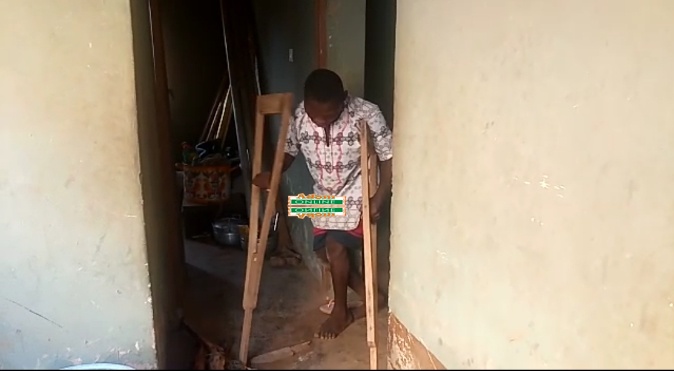 ALSO: Watch: Features of new GH¢200, GH¢100 notes and GH¢2 coins
According to her, she has been contemplating suicide. She feels she has disappointed Atta by giving birth to him.
She added that, Atta, however, is very optimistic and sure of a better future. She said, Atta told her one day that, he is not a failure, he might be performing well in school and in exam and with a little push, he will reach his goal, hence there is no need to commit suicide.
A teacher at the St. Kizito JHS, Mr Gregory Kweku, described Atta as very creative, innovative and industrious boy with his determination rare even among his colleagues.