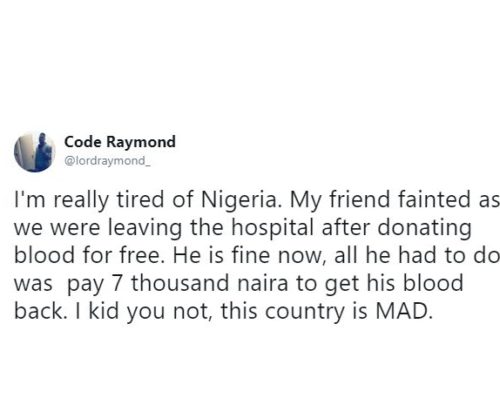 There was a bizarre turn of event recently as a Nigerian man who voluntarily went to a hospital to donate his blood collapsed as it didn't quite work out as he anticipated.
After the blood donation, the young man collapsed and instead of giving him his blood back, he was asked to pay a whole sum of NGN 7000 Naira (GHC 91 Cedis) for the blood he "just donated blood".
A friend of the Young Man took to twitter to share the incident.
READ ALSO: Stop thinking you're wiser than – Ken Agyapong to Kweku Baako
"I'm really tired of Nigeria, my friend fainted as we were leaving the hospital after donating blood for free. He is fine now, all he had to do was pay 7 thousand Naira to get his blood back. I kid you not, this country is MAD…" he said.
ALSO READ: FULL LIST: All the 32 World Cup team squads