Nollywood actress, Funke Akindele Bello and her husband Rasheed Bello have shared a photograph to signify their happiness as couples who have been blessed with twins.
Funke, Bello and three others posed for the camera as the couples held their twins.
The Nollywood star and her husband welcomed a set of twins on Friday, December 21, 2018.
The two had been married for two years and Funke had reportedly had two miscarriages.
READ ALSO: Audio: A Plus hits hard at Catherine Afeku over AFRIMMA deal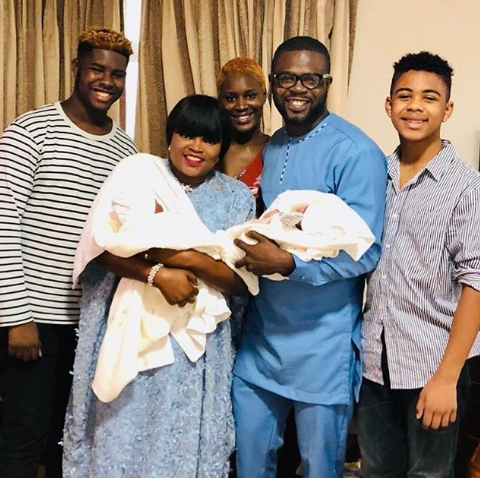 Perhaps, what fueled the joy was a recount of a prophecy by Lagos-based pastor, Olagorioye Faleyimu that Funke Akindele may not have children and might end up with another broken home.
"A popular actress in Nollywood, Funke Akindele, who was once in the Yoruba movie industry should pray deeply so as to have children. Another grace she has is to marry a pastor who can fight the battle on her behalf with prayers," the prophet reportedly said in December 2016.
ALSO READ: Video: 'My first attempt failed'– Sarkodie reveals how he wooed wife
But Funke announcing a change in the narrative appreciated God for the honored bestowed upon her.
She wrote: "Thank you Lord. Oluwa e tobi (God is great), I am now being called a new name."
Two weeks after and the couples cannot stop thanking their Maker.
See her post on Instagram below: