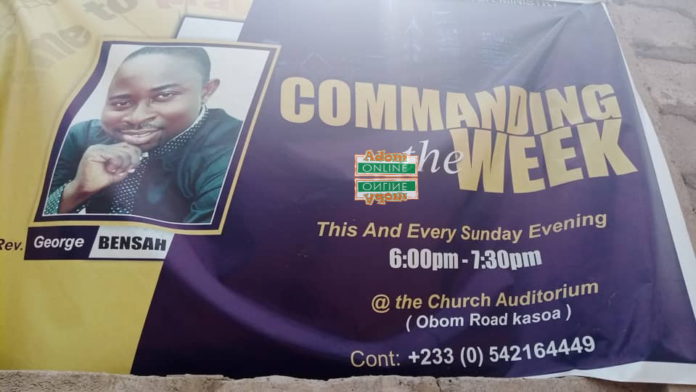 Prophet George Bensah, senior pastor of Peniel Word Ministry Church at Kasoa Samanhyia in the Central region, has broken his silence over news that his wife was stripped naked in his church when he was in the process of marrying another wife.
Reacting to the news on Adom FM's Dwaso Nsem show, Rev Bensah confirmed the news of his estranged wife storming his church to stop him from getting married to another woman believed to be a prophetess.
He said he was not surprised by her behaviour because she had already packed out of their matrimonial home.
The story of the separation was confirmed by the wife, Mrs Salomey Bensah.
She, however, insists Rev Bensah remains his lawfully wedded husband.
Rev Bensah said he was at his mother's funeral when he was informed by his landlady that his wife had packed out of their home, leaving behind only a refrigerator and bed. 
He added that he tried for a whole year to settle the issue with his wife but was unsuccessful.
ALSO READ
"Her family also supported her, saying they had no knowledge of my marriage to their daughter and asked me to remarry her, to which I obliged," he noted.
Prophet Bensah could, therefore, not fathom why his estranged wife would stop him from marrying another woman after packing out of their home for almost a year.
Asked if he still wanted to stay married to Mrs Bensah by show host, Captain Smart, the pastor said he was tired of the marriage and wanted a proper divorce.
He revealed that he never enjoyed his marriage because she had the penchant of accusing him of infidelity at the least chance.
They have been married for 12 years and have three children.
Listen to Prophet Bensah talking to Captain Smart in the audio above:
Source: Adomonline.com | Dorcas Abedu-Kennedy