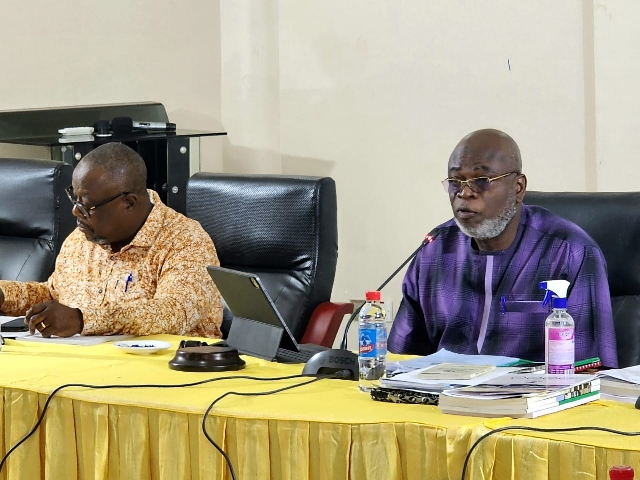 The Chairman of the Public Accounts Committee, James Klutse-Avedzi, has hinted that the Committee is contemplating inviting the Ghana Tertiary Education Commission (GTEC) to find solutions to the undue delay of accrediting new programmes or renewing existing ones.
Mr Klutse-Avedzi made this known when the Committee began its Second Zone Public Hearing in Sunyani.
The hearing was to consider the Report of the Auditor-General on the Public Accounts of Ghana – Technical Universities and Second Cycle Institutions for the year ended December 31, 2021, and the Report of the Auditor-General on the Public Accounts of Ghana.
Tamale Central MP, Murtala Mohammed and Builsa South MP, Dr Clement Apaak, both members of the Committee, vividly expressed their concerns about the delay in issuing accreditation of programmes in universities, which, in the end, they believe affects students who have already completed schools and want to use their certificates for further studies or seek jobs.
These issues came up when the Director of Finance, Registrar, Vice-Chancellor, and other managers of the Kumasi Technical University appeared before the Committee to answer a number of infractions cited against the University in the Auditor-General's Report.
Currently, about 16 programmes being taught at the University are at various stages of accreditation.
The Chairman of the Committee used the opportunity to caution the universities to apply one year ahead of time when seeking for renewal of accreditation for existing courses.
He also admonished institutions to comply with the financial laws of the country to avoid being cited in the Auditor-General's Reports.
The Sunyani Technical University, Al-Faruq College of Education, Enchi College of Education and Sefwi Wiawso College of Education were some of the institutions that also appeared before the Committee.
GTEC is a merger of the erstwhile National Council for Tertiary Education (NCTE) and the National Accreditation Board (NAB).
ALSO READ: