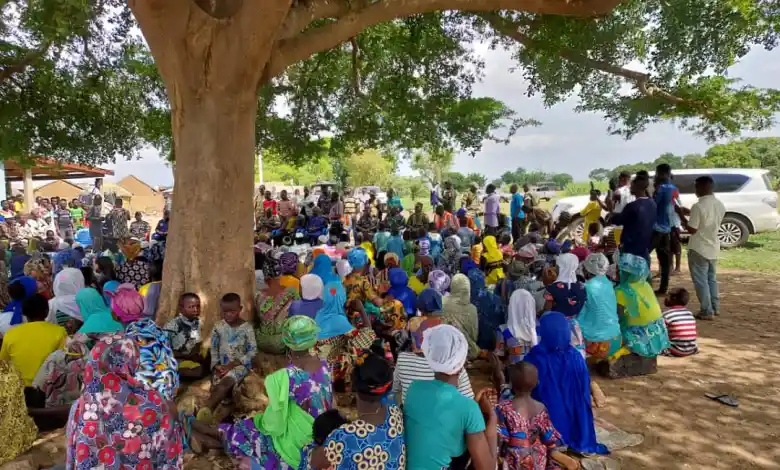 The Ghana Refugee Board has revealed that the country has registered a total of three thousand two hundred refugees from neighboring Burkina Faso in a period of nine months.
The number is expected to increase as more of these foreigners keep trouping Ghana to seek asylum.
According to the Executive Secretary of the Ghana Refugees Board, Tetteh Kwao Padi, although the situation calls for concern, his outfit continues to work with relevant security agencies to properly screen these refugees before admitting them into the country.
"What is happening more recently is that, they have been staying in that area which is not good, security wise. We work very closely with security agencies. Before we register any asylum seekers they are cleared and we know that it is safe for us to register them.
"We also do our own screening. Our registration officers are trained to look out for certain signals and if we find anything untoward, we hand them over to the security agencies," he added.
Mr. Tetteh Kwao Padi stressed that adequate measures have been put in place to ensure security is not breached.
"But there are a lot more to be registered and we are aware that well over a thousand need to be registered so again we will go through the process to make sure that any body that we are registering is a bonafide refugees or asylum seekers."
Meanwhile, President Akufo-Addo says it is difficult controlling the influx of these refugees to Ghana. More worrying for him is the admission that some of the terrorists operating in the region may have entered the country already.
Interacting with Foreign Ministers from Belgium, Netherlands, and Luxembourg, the President said maintaining a grip on the situation remains a priority.
"We will cooperate with out neighbours when driving them out of our region. We here in Ghana are beginning to get an unusual and unhealthy number of refugees as a result of the impasse in Burkina Faso.
"We have a lot of people coming in and we best be sure that some of them belong to these grouping and it's going to be a bit difficult to take control of the number of refuges that are coming in and identify everybody that is coming in.
"But it is an exercise that we cannot spare and we have to do our best to make sure that we have a strong hand on deck."
Background
At least 4,000 Burkina Faso nationals are seeking refuge in some parts of the Bawku West District of the Upper East Region, following terrorists' attacks in some border communities in Burkina Faso.
The refugees moved to Ghana after some homes in Zoago, Bugri and Zabre, farming communities in Burkina Faso, including a police station, were attacked by terrorists believed to be jihadists, leading to loss of lives.
Many people, especially women and children, have been displaced as a result while others have sought asylum in other areas, including Ghana.
The situation is causing fear and panic among residents in the border communities, including Widnaba, Soogo, Sapeliga, Kansoogo and Googo in Bawku West District and also in Bansi in Bawku where most of the refugees are being hosted.
Apart from that, it is also putting stress on their finances and food with residents expressing fear of imminent food shortage in the area if concrete actions were not taken to address the challenge.
Although Bawku District Security Council (DISEC) has beefed up Security with the Ghana Immigration Service, the Military and Ghana Police Service along Ghana's border and in some of the host communities, the residents complained that the many unapproved routes were a source of concern.