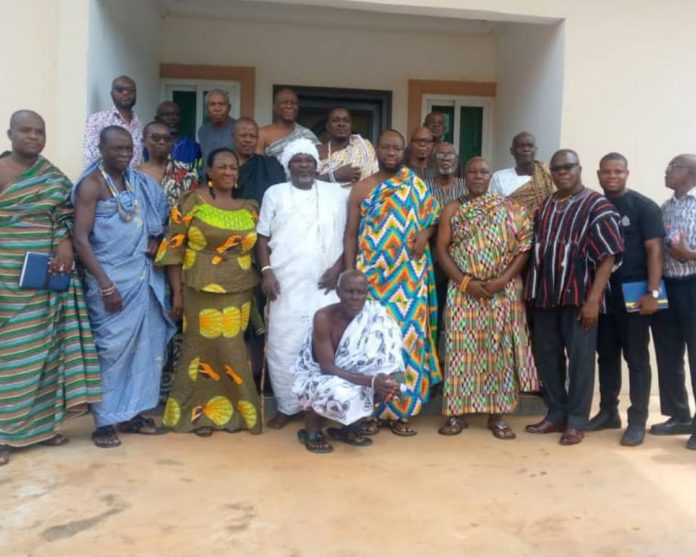 A delegation from the National Peace Council (NPC), led by His Eminence Numo Blafo Akotia Omaetu III, has held a meeting with the chiefs and elders of the Somey Traditional Area.
The meeting, chaired by the Paramount Chief of the Somey Traditional Area, Torgbi Adamah III, was to deliberate on the controversy which surrounded comments made by Archbishop Charles Agyinasare, founder of the Perez Chapel International, and find lasting solutions to the impasse.
The Archbishop during a summit at the Perez auditorium in Accra, described Nogokpo as the "demonic headquarters in the Volta region."
His comments infuriated the people of Nogokpo and the larger Volta region, some of who took to various social media platforms to criticise the respected clergyman.
Subsequently, the chiefs and elders of the town issued a two-week ultimatum to the Archbishop to withdraw his comments and render an apology to the people.
The ultimatum has long elapsed.
Torgbi Adamah said after the meeting that both the Peace Council and the Somey Traditional Council had agreed to resolve the issue amicably.
"We have communicated our position to the Peace Council, and have tasked the council to communicate that to the Archbishop. The Somey Traditional Council is giving the Archbishop a week's ultimatum to withdraw the controversial comment and render an unqualified apology to the people of Nogokpo, the Somey Traditional Area, and the Volta region as a whole," he said.
Torgbi Adamah added that the Traditional Council had requested its lawyers to officially write to the Archbishop about the council's decision.
He clarified that the week's ultimatum would begin when the Archbishop officially receives the letter from the traditional council's lawyers.
He stressed that should the Archbishop fail to heed the traditional council's demand for an apology, "the Somey Traditional Council would advise itself accordingly."
The Paramount Chief said that there has always been a negative perception of the people of the Volta region which makes Archbishop Ayginasare's comments unwelcomed
"This should not have been an issue, but the fact that the people of the region have over the years been perceived as bad people, affecting our marriages to other tribes and job opportunities, the Archbishop should not have uttered those comments in the first place.
"He is a respected and experienced man of God who should be uniting people and not passing divisive comments. He must render an apology to bring this matter to rest – we are not happy with this at all." Torgbi Adamah said.
Numo Blafo Akotia Omaetu III, showed appreciation to the Somey Traditional Council for the warm reception and understanding.
He assured of the Peace Council's commitment to ensuring that the issue was resolved amicably in the interest of harmony and peaceful coexistence.
Some members of the Volta Regional Peace Council, including its Chairman, Rev. Seth Kwesi Mawutor, were present at the meeting.