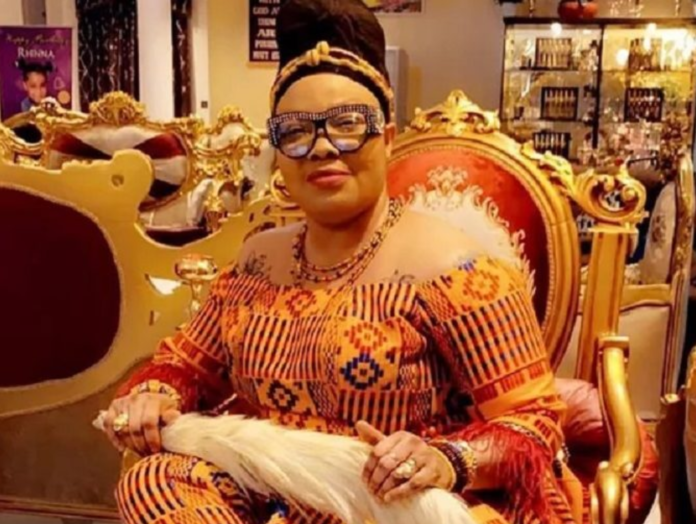 Controversial fetish-priestess-turned-prophetess, Patricia Oduro Koranteng, popularly known as Nana Agradaa, has incurred the wrath of some renowned bishops and clergy men over her social media invitation to her ordination scheduled for August 2, 2022.
A press release by the clergy, explained that the prominent men of God mentioned and invited by the self-made prophetess have not received any official invite from her.
Below is the full statement:
The Council Of World Bishops, Concerned Clergy Association, Prophetic & Apostolic Council, Schambach School of Ordination / Schambach Theological College, cum other Ecclesiastical Bodies in Ghana have taken notice of an Ordination and Formal Church Dedication Programme under the auspices of Heavenway Champions international church in conjunction with Rapha Faith International Ministerial Network, scheduled for 2nd August 2022 at Heavenway Champions international church, for its Founder and General Overseer, Evangelist Patricia Oduro Koranteng (Nana Agradaa) and her Church respectively.
Evangelist Patricia Oduro Koranteng (Nana Agradaa) invited some leading Christian Leaders in Ghana inter alia, Archbishop Nicholas Duncan-Williams, Archbishop Dr Charles AgyinAsare, and Rev Dr Mensah Otabil on social media being the formal invitation given to these reputable Ministers of God.

By such an act, an erroneous impression had been created that in reality, these Men of God had actually been contacted, formally invited and have given their conscientious consent.

This is not the case, and the Clergy Councils mentioned above, wish to categorically state that they know nothing of that sort, are not associated with it, have not been contacted and invited as purported.
In the process of inviting these Men of God on social media, she run down Rev. Dr Isaac Owusu Bempah, a seasoned and senior Prophet of God in this Nation with a proven track record of many years standing and a senior member of the Prophetic & Apostolic Council. She also ridiculed the character of Prophet Tony Asamoah Boateng (Apae Live) and intoned that she was not inviting him because he was likely to demonstrate some hostile attitude toward her and the programme.
The Leaders of the Ecclesiastical Councils mentioned above are, The Presiding Archbishop General Dr George Slezer Ofori-Atta, The Presiding Bishop Prince Benny Wood, Prophetic Archbishop-Elect Elisha Salifu Amoako, and Archbishop Schambach Amanianpong respectively.
They are of the view that the Evangelist Patricia Oduro Koranteng (Nana Agradaa) who according to her got born-again and baptized a year ago from practicing fetishism as fetish priestess, did not humbly submit herself in the church in order to undergo the cycle of discipleship as 1 Peter 2:2 says of desiring the pure milk of the Word, training where one comes of age in the things of God as found in Hebrews 5:14, equipment and deployment under seasoned Men of God for a period that could fashion her for Ministry Work, more so as a pioneer. She has never had any Ministerial and Bible Training as well and yet three (3) months after her conversion to Christianity, she commenced the Church.
We call upon Archbishop Dr Benny T. Danson to do the needful, in rectifying these anomalies, where invitations were given on social media, ridiculing the character of some seasoned and senior Ministers of God and attacking their personhood and Ministry.
She has been in the public place, antagonizing everybody including churches and Ministers of God who have been in the ministry for many years. Her profane communication in the public space is not Christian, much more of a Minister of God. She does not show any remorse of her old life where she defrauded many people, scammed them and manhandled them, but prides herself openly of being rich out of that life; these things show no fruit of repentance needed for a Christian and much more for one who desires the office of an overseer of a Church. Unethically, it is required of a member to register at a fee of GHC 300 at her Church; late comers are likely to pay more.
Yours faithfully,
Signed
PRESIDING ARCHBISHOP DR. GEORGE S. OFORI-ATTA
PRIMATE/PRELATE, CWB
(CO-ORDINATOR)
Check out the original statement below:
Agradaa in fresh trouble as world bishops deny ordination invitation by Dennis Adu on Scribd
MORE: