The Minority in Parliament has filed a private members' motion seeking to compel the Finance Minister, Ken Ofori-Atta, to submit the Domestic Debt Exchange Programme (DDEP) to Parliament for approval. 
In a motion filed on Friday, February 17, 2023, the NDC MPs are requesting that the full government's debt restructuring proposal be laid before the House for further deliberations. 
They are of view that as representatives of Ghanaians, they must necessarily have an input in the programme.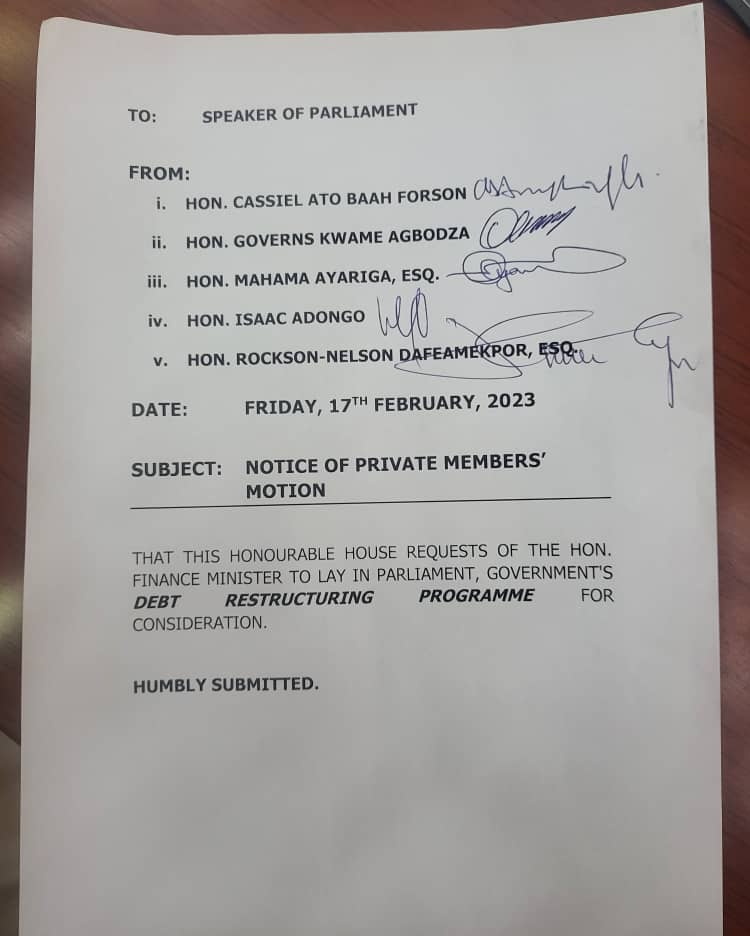 Already, the Minority Leader, Dr Cassiel Ato Forson, has said his side will also file a motion to compel government to exempt individual bondholders from the programme.
Speaking in an interview with JoyNews on Thursday, the Ajumako Enyan Essiam legislator said they will do whatever is possible to ensure investors are protected.
"Our intention today was to serve notice that tomorrow the NDC Minority will be filing a motion to compel the government to exempt individual bondholders and pension funds and pensioners from the domestic debt exchange."
Dr Forson explained that the decision to file the motion is to ensure that an issuer exemption is granted to bondholders who had faith in the NDC government to invest in risk-free bonds.
This, he asserted, is because "the Constitution is clear that before you go for a loan, the terms and conditions must be approved by Parliament."
Following an economic downturn and difficulties in servicing its debt, the government implemented the domestic debt exchange programme to give itself more time to meet its fiscal obligations.
However, the programme upon its announcement faced stiff opposition from groups and individuals.
Without the debt exchange programme, the government warned that the nation's economy would collapse.
Ghana is currently requesting a $3 billion bailout from the IMF to bolster the struggling national economy.
Before the Bretton Woods institution's board would evaluate Ghana's request, one of the requirements is the domestic debt restructuring scheme.
A staff-level agreement between Ghana and the IMF was achieved in December, opening the door for the $3 billion rescue.