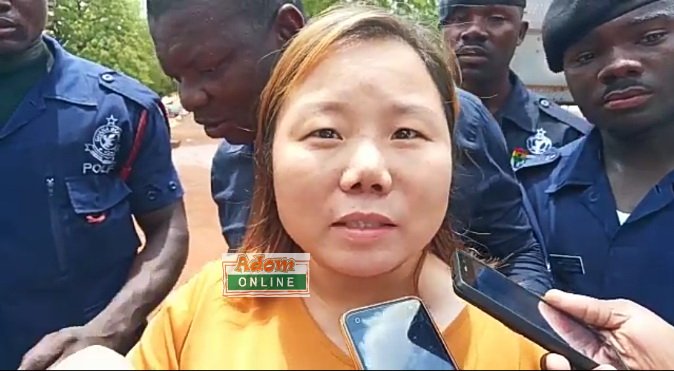 Savannah Regional Minister, Salifu Adam Braimah has ordered for the shutdown of embattled Chinese National, Helena Huang's timber firm Brivywell Company located in Yipala, a farming community near Damongo in the Savannah region.
This follows claims of Ms Huang's engagement in illegal logging and processing of rosewood after its ban for export to China for the past three years.
Addressing the media during a tour in the region, Mr Braimah, who expressed shock at the number of logs at the site, promised to clamp down on other illegal timber companies.
ALSO: We don't smuggle subsidised fertiliser – Farmers tell Akufo-Addo
"We have allowed some unscrupulous persons into our
vicinity, taking the law into their own hands to our disadvantage. They are
making huge sums of money and at the same time making the environment highly
unfriendly and unhealthy," the Minister said.
Commenting on Ms Huang's case, Mr Braimah revealed he had set up a nine-member committee with the mandate of investigating factors that militate against the efforts made to eliminate illegal logging.
"The committee, chaired by the Deputy Savannah Regional Minister, Samuel Yayu Tika will investigate the roles played by individuals, groups, institutions, including state institutions in aiding the situation," he assured.
READ: Fabewoso: Chinese 'Rosewood Queen' Helena Huang now hiding in Togo (Video)
"Other members of the committee are Sulemana Yusuf, Member of Parliament (MP) for Bole/Bamboi constituency, Alhaji Sadique Bakari Nyare, Dramani Issahaku, Osman Mohammed Amin, Sammy Wusah, former MP for Damongo constituency, Kipo Suyenzi, former District Chief Executive of Sawla Tuna Kalba District, Habibi Muftawu and media experts," he added.
Ms Huang was arrested last Tuesday by the Tamale Police in an attempt to smuggle four containers of rosewood from the region. She was granted bail the same day.
Source: Adomonline.com| Gertrude Otchere