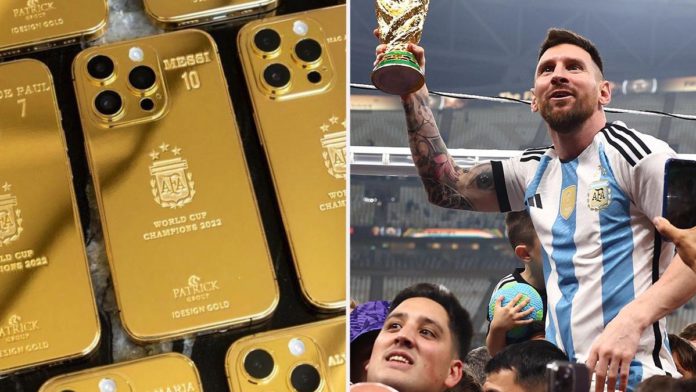 Lionel Messi gifted Argentina team-mates and staff gold iPhones following their World Cup success and splurged £175,000 on 35 individual devices.
Messi masterminded the nation to World Cup glory in December as his sensational goalscoring form in Qatar guided Argentina through several tricky ties before beating France on penalties in the final.
The Argentina captain wanted to give his colleagues a personal memento to remember their success with and decided personalised 24-carat gold smartphones was the way to go.
The PSG star had the mobiles delivered to his Parisian department over the weekend and will set about handing them over to the lucky individuals who are set to receive a swanky new upgrade to their current handset.
CEO of iDesign Gold, Ben Lyons, explained how Messi approached him about designing a special gift after triumphing in the Middle East.
"Lionel is not only the Goat but he's one of iDesigns Gold's most loyal customers and got in touch with us a couple of months after the World Cup final," he told The Sun.
"He said he wanted a special gift for all the players and staff to celebrate the amazing win but didn't want the usual gift of watches.
"So, I suggested gold iPhones inscribed with their names and he loved the idea."
READ ALSO
Each luxury piece boasts a similar design of the Argentina team badge with the updated three stars, the player's name and national team shirt number, and the words 'World Cup champions 2022'.
The bottom of the phone is engraved with the manufacturers brand and the luxury service brand Patrick Group, however, it is not known what their involvement was in the process.
Some of the mobiles unveiled in short social media snippets show the designs of World Cup final goalscorers Messi and Angel di Maria, while Brighton's Alexis Mac Allister and Aston Villa goalkeeper Emi Martinez's custom devices were also put on display.
The company behind the mobiles appear to be popular with other footballers who like to use their six-figure salaries to buy luxury goods.
Neymar was spotted sporting gold wireless earphones and Chelsea's Hakim Ziyech invested in a similar gold iPhone.