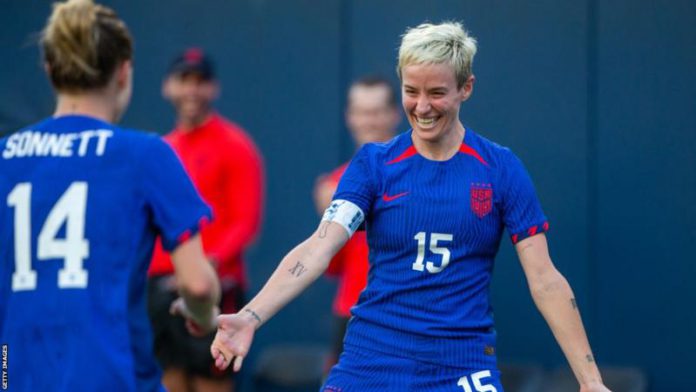 Megan Rapinoe brought down the curtain on her international career as the USA beat South Africa 2-0 in Chicago.
Prior to the 2023 World Cup, the forward said she planned to retire when the National Women's Soccer League (NWSL) season ends.
Rapinoe, 38, made her USA debut in 2006 and won 203 caps, scoring 63 goals, and winning the World Cup in 2015 and 2019.
"So overwhelming. It has been amazing," Rapinoe said of the reception she received at Sunday's friendly.
"It has been really wonderful, to hear all the nice things, to have a closure moment, to play in front of a big crowd again.
"I'll miss it forever. I don't think I'll ever be at a moment where it will feel perfect but this is pretty close."
Rapinoe started the game at Soldier Field and received a standing ovation as the game was paused when she was withdrawn after 54 minutes.
The 2019 Ballon d'Or winner represented the USA at four World Cups and also helped her country win gold at the 2012 Olympics in London, although she was one of three players to miss a penalty when they exited the 2023 World Cup against Sweden in the last 16.
After Sunday's win, Rapinoe tried to fight back tears as she gave a speech, thanking fans for their support over the past 17 years.
"I feel like I've been able to grow up in front of all of you," Rapinoe said.
"It has been such an honour to be able to wear this shirt and play with all these amazing players and to just live out my childhood dream, casually, just like in front of the world," Rapinoe said.
"We fought so hard off the field to continue to create more space for ourselves to be who we are but hopefully in turn more space for you guys to be who you are.
"I'm not going to go away forever. Don't worry. I'm one of you guys now."
Rapinoe is scheduled to retire from professional football on 15 October when NWSL side OL Reign play their final game of the season at Chicago Red Stars.