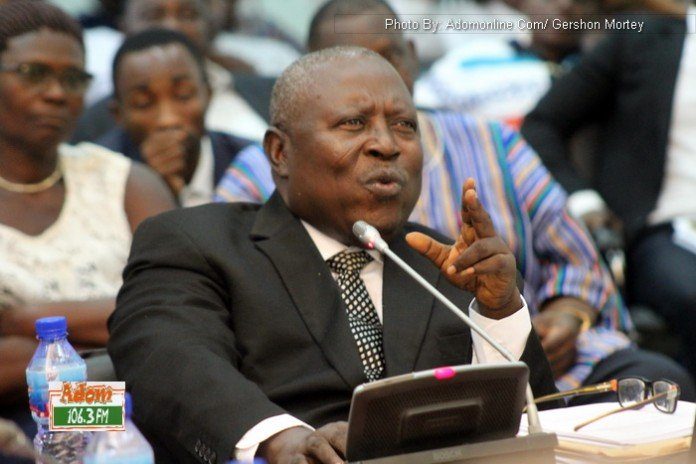 Special Prosecutor, Martin Amidu has said that the Ghana Police Service had no jurisdiction in the case involving Mr Charles Bissue, a former secretary to the Inter-Ministerial Committee on illegal Mining, who has been cleared by the police.
Speaking in an interview on Accra based Citi FM, monitored by Adomonline.com, Mr Amidu said investigative journalist, Anas Aremeyaw Anas and his Tiger Eye PI team petitioned his office in relation to the galamsey documentary in February and the office replied the same month that they would investigate the matter.
He said the complainant and the suspect have given their evidence.
ALSO: Manhunt for chief who allegedly kidnapped another chief
"Anas wrote to me stating that he wants to appear as a witness in the case and we replied that we would investigate the matter and so the police has no jurisdiction in that case," he said.
The Special Prosecutor posited that he wrote to the Police Criminal Investigations Department (CID), Interior Ministry and the Jubilee House that the police could not interfere with his work on the case.
Mr Amidu noted that he informed the Ministry of Interior that directing the police to investigate Mr Bissue's case was a purely political decision.
ALSO: Two jailed 40 years for robbery
"Why would they be told to investigate when it's my mandate?" he questioned.
Lawyers for Mr Bissue, who hitherto, served as secretary to the Inter-Ministerial Committee on illegal Mining, said their client had been exonerated by Police investigations on allegations of corruption.
Mr Bissue, who is also a former Presidential Staffer, in a letter to the President in March this year decided to step aside to avail himself for investigations after he was accused by a Tiger Eye PI documentary titled 'Galamsey Fraud.'
ALSO: Paramount Chief of Lower Dixcove kidnapped
The documentary claimed the secretary was involved in alleged shady deals to facilitate processes for a mining firm called ORR Resource Enterprise.
But, a letter written to Ampofo, Oppong and Associates, lawyers for Mr Bissue by the Police CID on its thorough investigation on the matter cleared him of any wrongdoing.
Source: Adomonline.com | Dorcas Abedu-Kennedy