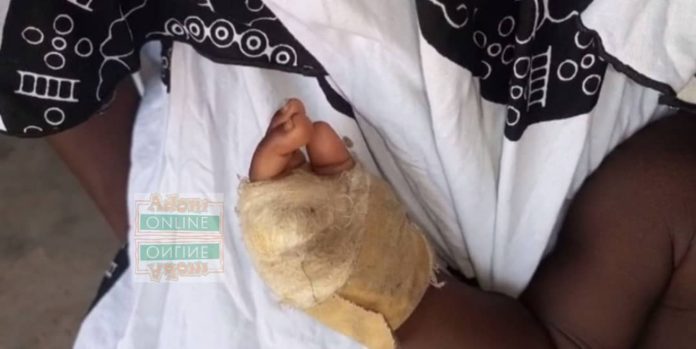 A 71-year-old man, Joseph Efo Kwasi, has reportedly cut off his 11-month-old son's two fingers at Millennium City in the Gomoa East District of the Central region.
Information gathered by Adom News' Kofi Adjei suggests Efo Kwasi, who is a carpenter, mistakenly cut his fingers while cutting wood.
The incident happened on Tuesday afternoon.
The wife in an interview said her husband came to threaten her after she returned from the hospital with the baby.
Out of fear, she packed out of the house to her father's place where she is currently living.
The distraught mother said the baby is in serious pain and can't stop crying.
ALSO READ:
Guardian who boiled 9-year-old's fingers granted ₵90K bail
Man slashes 10-year-old boy's finger over attempted stealing
She appealed for support to buy drugs prescribed for the child as the husband has not contacted them after the incident.
Meanwhile, the case has been reported to the Millennium City police for investigation with the suspect yet to be arrested.