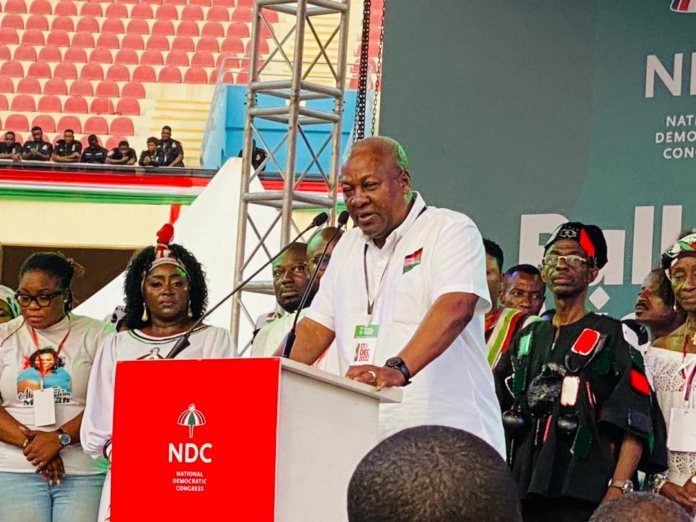 The Executive Director of Global InfoAnalytics, Mussa Dankwa, says a national poll conducted by his outfit indicates former president John Mahama will likely beat the New Patriotic Party (NPP) and other contestants in the 2024 presidential elections.
Mr Dankwa said the poll tipped Mr Mahama to win across all the regions except the Ashanti Region and Eastern Regions, the stronghold of the NPP.
He added that Mr Mahama may also not be able to make inroads in the Northern and North East Regions.
Speaking on Citi TV, Mr Dankwa said: "besides the Northern Region and North East Region where [Mahamudu] Bawumia leads [John] Mahama head-to-head, elsewhere, it is difficult for NPP."
Mr Dankwa stressed that "it is terrible in the Central and Western Regions. Greater Accra is not good and the numbers are not great in the Ashanti Region though the NPP is winning. It is almost neck and neck between the NPP candidate and John Mahama.
"Across the regions, it doesn't look good, but something is happening in the Northern Region. This is the third time we are seeing that something could happen in the Northern Region, and we believe that John Mahama could lose the Northern Region and still win the elections," he added.
Mr Dankwa told the host of the show, Selorm Adonoo, that the dynamics and reasons for the voting pattern in 2024 won't be different from previous years as religion and ethnicity are expected to largely be a deciding factor.
He said the poll revealed that Dr Bawumia is popular among Muslims in the Northern and North East Regions but is doing poorly among Muslims nationally.
"He [Mahamudu Bawumia] is getting the support of ethnicity and also religion. If we drill down the Muslim votes to the Northern Region, you could see that Bawumia is doing well, but he is not doing well nationally," he said.
He explained that Dr Bawumia is doing poorly nationally among Muslim voters because he is seen to be swinging much more towards the Christian faith instead of Islam.
Mr Dankwa also said the national polls indicate Mr Mahama is winning among all ethnic groups except the Akans.
He further intimated that a significant percentage of some disappointed supporters of the NPP may vote for Mr Mahama.
"There are a lot of NPP supporters who are disappointed and when you ask them who they are going to vote for, they tell you John Mahama, and we saw that about 30% of those who voted for President Akufo-Addo will vote for John Mahama if we go to the polls," he added.