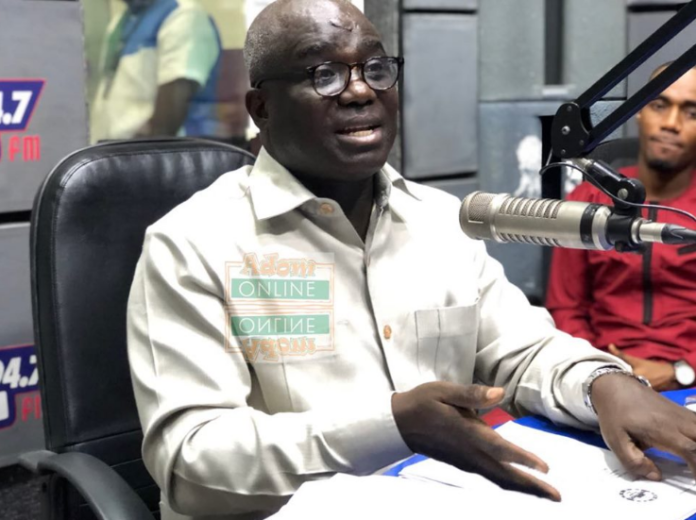 The National Democratic Congress' Asunafo South MP, Eric Opoku, is urging the Majority Caucus in parliament to support the call for investigations into the alleged plot to remove the Inspector m-General of Police (IGP), Dr George Akuffo Dampare from office.
On Tuesday, July 11, a purported secret audio recording emerged, detailing an alleged plot by persons suspected to be high-ranking officials of the governing party and a top member of the Ghana Police Service to replace the IGP ahead of election 2024.
The suggestion is that this is a strategy by the governing party to rig the 2024 election.
According to Mr Opoku, this is a matter of national security concern, hence the need for the house to unanimously agree for a probe into the matter.
This is in spite of the fact that government through the Interior Minister, Ambrose Dery, has denied any such plot to replace the IGP and rig the election.
But speaking on the floor of parliament, Mr Opoku said "we are only asking for investigations so that we can expose and know the people behind it. If you are not behind it why are you worried?"he quizzed.
His comment was in support of the Deputy Minority Leader, Emmanuel Armah Kofi-Buah, who has called on the Interior Minister to look into the matter.
But the Deputy Majority Leader, Alexander Afenyo-Markin, said once the authenticity of the tape cannot be verified, the NDC cannot accuse the NPP of any attempt to rig the election.
In response to Mr Afenyo-Markin, Mr Opoku retorted, "Assist us, agree that we investigate this matter; it's just investigations and you want to impede it.
"What are you people hiding? Mr Speaker, we just want investigations. They should agree that we investigate this matter to discover those involved," he reiterated.