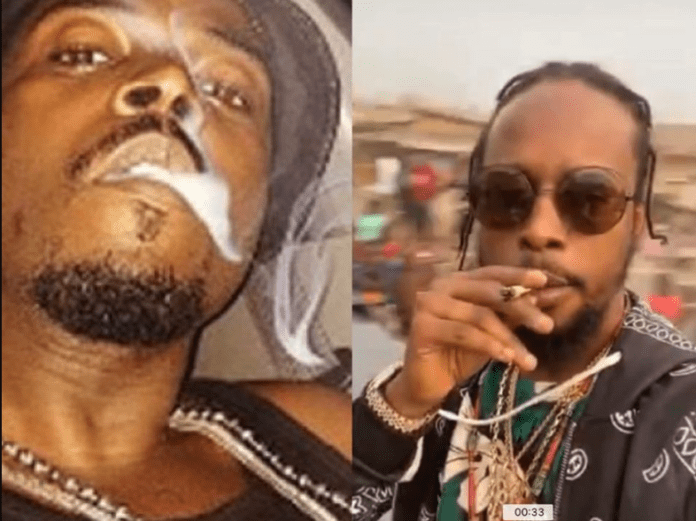 Popcaan, the popular Jamaican music star, has been in Ghana for some days now to observe Ghana's Year of Return initiative.
As part of the visit, the musician has been to many tourist destinations including the Cape Coast Castle, Aburi Botanical Gardens, among other places.
He was also captured spending some quality time with Ghanaian actress Jackie Appiah.
In a videos posted by the Family hitmaker, he is seen smoking marijuana as he popped his head out of the sunroof so fans could catch a glimpse of him smoking the substance many believe to be marijuana.
Marijuana is a banned substance in Ghana with many advocates, including the Herb Society of Ghana fighting for its decriminalisation.
READ ALSO
What many can't comprehend on social media is that some policemen who were deployed to protect the Jamaican looked on as he engaged in the criminal act.
The best the could do was to prevent Popcaan's Ghanaian fans from mobbing the musician.
Interestingly, it can be recalled that Ghanaian rapper Kwaw Kese was arrested and fined in a similar gesture where he was seen smoking publicly in Kumasi in the Ashanti Region.
Reacting to Popcaan's action, Kwaw Kese, who was himself a victim of public marijuana smoking felt the authorities spared him because he is a foreigner and they only dealt with him for being a native.
Only in Ghana foreigners can f**k up like this. When @kwawkese smoked in public he was arrested. So this means our Law set only to control on the citizens but foreigners are free to go. The most painful part is Ghana 🇬🇭 👮🏻♀️ 👮 police. None of them was able to speak the truth out because of the small coins which will be given out … Ooh Ghana."
But Popcaan didn't let Kwaw Kese's post slide away.
In a riposte, he said he was ready to meet the government of Ghana for marijuana legalization talks.
"I'm not a foreigner bro we all came from Africa; don't be mad bro let's try to organise a meeting with the government to legalise weed; it's simple #unruly" he told Kwaw Kese."
Watch the post below: