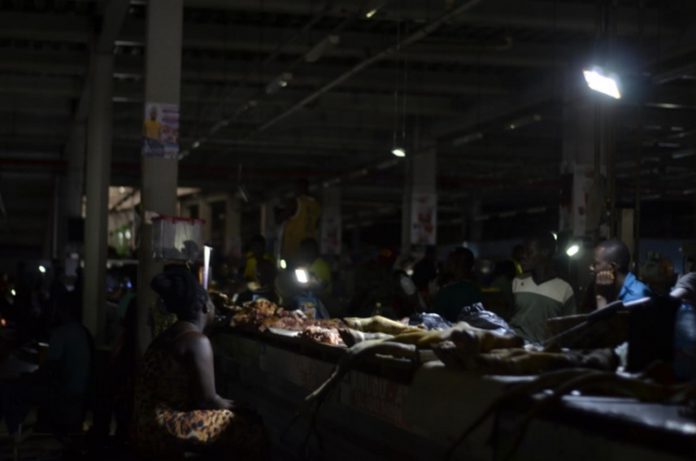 Power has been cut off to the Kejetia Market in the Ashanti Regional capital for over one week, affecting trading activities in the major commercial hub.
The market facility owes the Electricity Company of Ghana (ECG) 5.4 million cedis in bills.
Vendors of perishable goods at the market have been the most impacted, since the lights went off on Tuesday May 9, 2023.
Managers of the market claim traders have not paid for the power to enable them make payment to ECG.
But the traders say they have settled all outstanding debts paid on monthly basis to the managers of the market facility.
"After the disconnection, leadership of the traders confronted management on why they are being disconnected from the national grid. We are at a loss as to how and why the debt is so huge because every month, the management gives traders bills to pay. We have been paying the bills. But the management says otherwise," Eric Nana Kwasi Prempeh, Chairman of the Federation of Kumasi Traders revealed.
Days after the blackout, a generator set at the facility was powered to serve as an alternative.
This was, however, unsustainable as the traders feared the cost of fuel would be passed on to them.
The traders are now resorting to the use of flashlights for their activities at night.
Butchery and cold store operators at the market are the worst affected, as their goods are being damaged.
A cold store operator, Ataa Papa, said "For about three days now, my fresh meat has been going bad. They assured us of a re-connection, so we left our meat here. The next day, the lights were still off. All our meat have gone bad. It is really affecting us.
"I sometimes tie a flashlight on my forehead, or hang it on a pole. That is not a bother. Our worry is that our meat is going bad. We have taken loans from rural banks. We buy cattle and slaughter to sell, but the blackout is making our meat get rotten. We are forced to sell our meat cheaply," another lamented.
Others say thieves have taken advantage of the blackout to steal from traders, whereas some patrons of the market are outwitting traders with fake currencies
"Some customers have been bringing counterfeits, because it is dark here. A counterfeit 20 cedis note was given to me last week. Traders have to be vigilant so they do not fall victim," Theresa Boakye said.
"I just got here from Accra. This place is dark. The thieves are taking advantage of the darkness to steal. They spy on you as you do your transactions," another trader said.
Trade unions at the market have asked for the speedy installation of individual meters by the Electricity Company of Ghana.